Additional Comments
Ritz is a 2005 AQHA Dark Bay gelding that stands a solid 16hh. This guy is gorgeous from every angle and he is just as sweet as he is handsome. Ritz had a very successful AQHA Circuit career as a junior horse with a Youth Performance ROM and Circuit Championships. He earned:
Novice Youth HUS 25.5 pts
Youth Hunt Seat Eq 12.5 pts
Youth Halter 10.5 pts
Open Green HUS 2 pts
Open Halter 1 pt

We purchased him for my daughter to show and she moved out shortly after so Ritz has hung around here ever since.... (read more) We buy and sell horses for a living but Ritz has been one of our personal family horses which makes him extra special. This guy NEEDS to be back in front of the judges. What a waste to let him sit! Ritz is currently in work, slick, and ready to return to the rail. This gelding can TROT - he just hangs his head and throws those legs out there as flat and pretty as you could ever ask for. Gorgeous loper too! He is solid as an HUS horse and can even slow it down for a respectable go in wp if you wish. Patterns! If you enjoy doing them, this guy is a great horse for you! In his time away from the AQHA circuit, Ritz has been started over fences and jumps a respectable 2 3 course with changes that are coming along well. Dressage is certainly something this gelding could excel in as well.
Ritz is as sweet a horse as you will find and a mean thought has never crossed his mind. He comes running to you in the pasture & gets along with EVERY horse you introduce him to. He is so gentle with other horses that, as I type this, he is babysitting a geriatric blind horse in his pasture. His ground manners are EXCELLENT and he is perfect for the farrier as well as clipping. Ties, cross ties, bathes, sprays, trailers, tacks up quietly, longes, & an easy keeping guy! Sound in every way with no vices of any kind. Ritz requires NO medical maintenance - no injections, chiro, etc. He has not been pounded down the show road, used-up, or soured. Vet checks are encouraged and always welcome.

Ritz has the kind of personality that you fall in love with. He will turn himself inside out for a graham cracker and is always happy to see people. The thought of not having him in our barn saddens me but I also cannot stand seeing such a quality animal just stand around.

Come out and meet Ritz in person! You will not be disappointed. He is a great mount for an intermediate or better rider. (too many buttons for beginners!) The teenaged youth rider looking for a competitive mount on a budget can go far with this guy!

Shipping Notes
We can assist with shipping arrangements.
---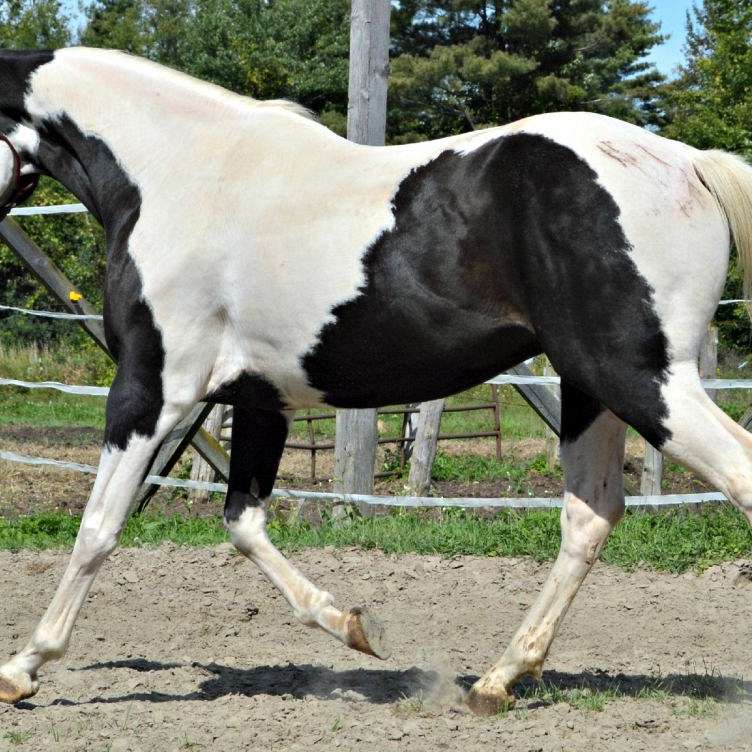 Red K Stable
Equine sales. Be sure to visit our website!