Additional Comments
Tonal AKA Tone
Watch Hacienda Laubela Tonal
Call 714-660-3392
~ Performed in Exhibition
~ Is in current Dressage Training (solid USDF Training T3 and 1st T1)
~ Hands-free Riding
~ Competed in Western
~ Exceptional on Trail
~ Jumping, jumped up to 2 feet
~ Natural Horsemanship, completed Clinton Anderson's course in Texas
~ Driving Champion
~ Halter Chamion
~ Costume
~ Parades
~ Name ~ Tonal AKA Tone
http://www.... (read more) horseclicks.com/alexandria-presents-toanl-for-sale-azteca-/horses/761652
Watch Hacienda Laubela Tonal
https://www.facebook.com/AlexandriaBaroqueEquus/media_set?set=a.1007011779326340.1073741861.100000525838027&type=3
Call 714-660-3392
https://www.facebook.com/AlexandriaBaroqueEquus
http://www.laubela.com/tonal.html
Tonal - Western: Watch Tonal Under Saddle January 2015
Tonal - Driving: Watch Hacienda Laubela Tonal
Name ~ Tonal AKA Tone
DOB ~ April 12, 2012
Registry ~ IALHA / AZTECA
Location ~ Norco, Ca. 92860
Sex ~ Stallion (can be) Gelded
Tonal AKA Tone is an exceptional young horse. He was AMAZING at the 2015 Horse Expo at the LA county fair. Tone was so incredible! He was a rockstar in the outside arena! He was so solid I was able to show some of his hands free riding. Tone was also incredible in the very intimidating inside showroom, which was not an indoor arena, but an actual inside building. Tone had to walk down a green carpet, in-between a crowd, past a mare, to a man made arena. He was perfect!!!!!
Tone started his riding carrer with Clinton Anderson in Texas. Once he completed the Natural Horsemanship program, he was off to continue his education with Howard Peet in Driving and Western Riding. Tonal is a halter champion, and driving champion. Tonal is now with me to continue his education as a USDF dressage horse. I hope to show him First Level test One at the next USDF dressage show. Come meet Tonal ASAP before his price continues to increase with his merits and training!

---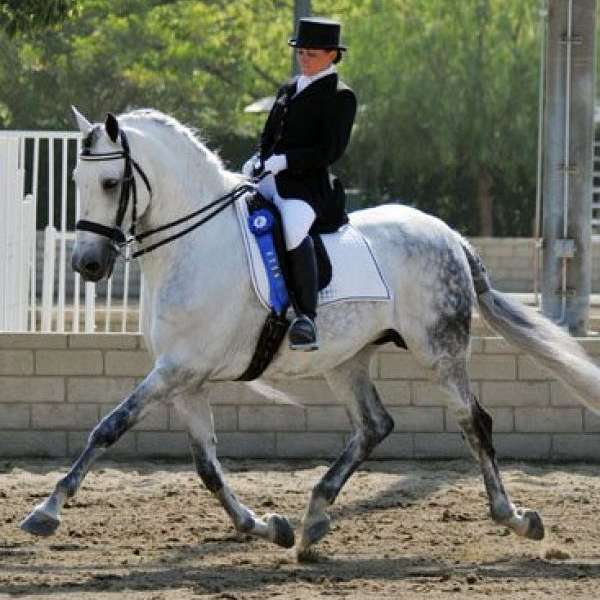 Baroque Equus
Dressage Training and Sale Horse services now located in New Braunfels Alexandria, head trainer at Baroque Equus and Former dressage rider and performer from: Medieval Times ~ http://www.medievaltimes.com/, The World Famous Lipizzaner Stallion Show ~ http://lipizzaner.com/, War Horse Productions ~ http://warhorse.com/, and Disneyland is now accepting dressage training horses and clients. Alexandria has had an extremely successful career inside and outside of the dressage court.... (read more) Alexandria has had the wonderful opportunity to be a dressage rider and performer for numerous world renowned companies such as "Medieval Times" and "The World Famous Lippizaner Stallion Show." She has also won numerous championships at ANCCE, PRE, IALHA, and IFSHA shows. Alexandria and Baroque Equus focus on clientele who are interested in learning classical dressage, as well as competing in USDF dressage shows, ANCCE, and Friesian shows. Please contact Alexandria regarding her training program. Services provided: Visit my FaceBook Page for photo's of horses for sale: https://www.facebook.com/AlexandriaBaroqueEquus Also visit my YouTube Channel for video's of sale horses. http://www.youtube.com/user/alicat254z?feature=mhee