Additional Comments
August, is a gorgous two year old black, registered Canadian Filly. She is curious, right with you at the fence and willing to work. Last week we put a saddle on her the very first time, she stood quiet and didn't worry at all. Also kids were sitting on her bareback, while leading her around and she did just great.
August will be good for any kind of purpose such as dressage, jumping or as a trail horse.
She will be about 15.2 hands tall, when she matures.... (read more) $ 2900 Price subject to change.

Please call or email for more information or pictures.
---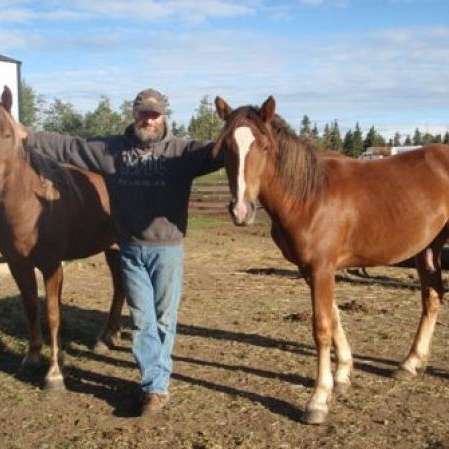 Canadian Hay Ranch
Canadian Hay Ranch - breeders of Canadian Horses - for over 20 years now. We are located an hour north of Calgary, west of Highway 22, living in the beautiful rolling hills of Alberta we provide the perfect landscape for our young Canadian horses to mature into fit, and healthy adults. We have purebred Canadian horses for sale: colts and geldings, fillies and mares started from yearlings to three year olds and horses trained to ride or drive.... (read more) We offer horse boarding, high quality hay, canadian stallion service, horse training and customizable horse transport. Please ask for availability. Our Canadian Horses are good sound and suitable as pleasure, work or show horses in dressage, jumping or western. They are perfectly suited for mountain rides as they have larger hooves, bigger bones and the stamina to go up and down the hills all day. Recently we also breed some taller 16 hh and more athletic build Canadain Horses.