Additional Comments
I've had numerous calls in the past 3 to 4 years from families searching for that PERFECT Pony for their little ones and every time one Pony inparticular was always mentioned....I would tell them to let me make a call and see if she was available yet....she never was. I am thrilled to say PENELOPE is FINALLY available For Sale!!! Just wish I had a pasture full of others just like her!!! I have sold 100's of KID PONIES in the past 8 years but can honestly say PENELOPE is without a doubt MY ALL TIME FAVORITE and #1 on my list!!... (read more) Feel I should mention that she is #1 on a list that 2 through 10 are Geldings. I do believe that Geldings are more suitable for children NORMALLY however this is not a NORMAL KID PONY! I actually watched as a 3 year old begin to fall off the side of Penelope while trotting, Penelope stopped and used her nose to push that baby back to the center of her back then resumed trotting!!! That was 4 years ago when she was just 4 years old!!! This Pony is like a 20 year old Kid Horse and always has been. YOU WILL NOT FIND ONE SAFER, MORE WILLING, MORE CAPABLE AND/OR SUITABLE! SHE IS PERFECT AND AS COOL AS THEY COME!
Penelope is an 8 year old Miniature Pony Mare (NO MARE LIKE BEHAVIOR OR ISSUES) that is as wide as she is tall. She stands 9.2 Hands (38 inches) tall. She is solid Sorrel with no additional markings... no bright flashy color but if you ever see her with a child you will think she is the most gorgeous breathtaking Pony in the world! We bought Penelope as a 3 year old. She belonged to two boys, ages 5 and 9. Both boys learned to ride on her (UNDERSTAND that NORMALLY the last thing anyone needs is a "3 year old" Pony ESPECIALLY one that young for kids to LEARN TO RIDE ON!! This just is NOT a NORMAL PONY!). They lived on a big Cattle Ranch. Penelope was used for them to go out with their Dad on 100's of acres and work cattle! Yes, this Pony thought, and I'm sure STILL THINKS, she is a COW HORSE!! Those two boys were ready for big horses in record time because of PENELOPE! She neck reins, super stop, backs when asked, and if a child knows how to ask her correctly she will do roll backs and spins! B-A-B-Y-S-I-T-T-E-R!!! Will adjust to her rider...in otherwords she is BEGINNER SAFE but when your little one is ready to ride solo and do more her capabilities are ENDLESS! NO SPOOK, NO BUCK, NO BAD HABITS, CATCH HER ANYWHERE, WILL LOAD IN THE FRONT SEAT OF YOUR PICK UP IF ASKED, HAULS, STANDS TIED, STANDS FOR FARRIER AND PICKS UP FEET FOR CLEANING, STANDS TO BE SADDLED AND GROOMED, WILL RIDE WITH A BIT BUT WILL RIDE/HANDLE THE SAME WITH NOTHING MORE THAN A HALTER AND LEAD ROPE, WILL RIDE SADDLED OR BAREBACK (HAS THE IDEAL BACK FOR RIDING BAREBACK....LIKE TWO BIG FLUFFY PILLOWS!), DOES WHAT SHE'S ASKED WHEN SHE'S ASKED, VERY EASY GOING, USED SOME FOR TRAIL RIDES WITH BIG HORSES SO SHE HAS A GREAT RUNNING WALK SO SHE CAN KEEP UP....BUT PUT A BEGINNER CHILD ON HER BACK AND SHE WILL WALK LIKE SHE IS ON EGG SHELLS UNTIL SHE KNOW FOR SURE THE CHILD IS READY FOR MORE, she is 100% sound with no past or present health or soundness issues, NO COLIC OR FOUNDER, spent the past four years living at the Feed Store turned out on 100's of acres of some of the best pasture around with no problems, she is an easy keeper whether she is turned out or kept up and fed. She stays fat year round. Gets along with other horses and/or Ponies and has been pastured with both. We had a Pony Carousel when we bought Penelope so of course I used her for Pony Rides along with 5 other Ponies. She was the only one that never gave me trouble. The others we would have to walk beside after just an hour of use. I have waited 4 years for the opportunity to watch this precious Pony make all of some lucky childs HORSE RELATED DREAMS come True and I will Only sell her to a family that wants a Pony that will Insure their child (children)/Grandchild (Grandchildren) rides and is involved with Horses for the rest of their life. I want her to go to a place that horses are a daily part of the whole familys life, a place that she is the most valuable horse they own because not only is she their childs Pony, she is also their BABYSITTER and their childs BEST FRIEND. You will be able to Trust her with your child while you ride or care for your horses. BEST BABYSITTER YOU COULD EVER ASK FOR! I am asking $3500, price is somewhat negotiable however this pony IS a once in a lifetime find and absolutely PRICELESS! For information or to schedule a time to come give PENELOPE a try call Stacy at 903-278-0330. Located 2 1/2 hours East of Dallas off Interstate 30 in New Boston Texas and available anytime. Shipping is available at buyers expense. Pony must be paid for prior to leaving. I can arrange shipping for you with my shipper who is exceptional with my Ponies so you would not have to worry. I Love this little Mare and I would like to continue to be part of her life so occasional updates/pictures are a must!!!
Shipping Notes
Shipping available at buyers expense! Call or email for shipping quote
---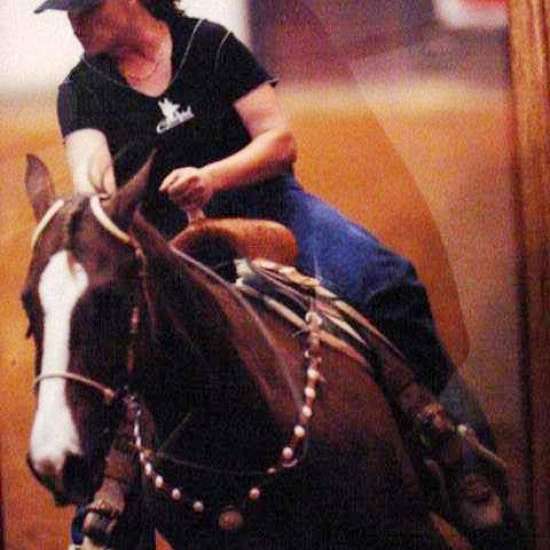 The Right Horse 4 U
I locate, buy, trade and sell a variety of Horses, Ponies, and Miniatures specializing in those that are Kid/Beginner SAFE and capable of making all of you or your little ones Horse Related Dreams Come True! I SELL HORSES "NOT" STORIES!!! I always have several to choose from. Call me anytime at 903-717-1823. Be sure and leave me a message with a number where you can be reached so I can call you back if I don't answer....... (read more) I WANT TO HELP YOU FIND EXACTLY WHAT YOU ARE LOOKING FOR!!! If I don't have the right horse 4 u, chances are I CAN FIND IT!! Located 2 1/2 hours East of Dallas off Interstate 30 in Omaha, Texas 75571 and available anytime!