Additional Comments
Isabelle Windsor 2007 FSHR papered Friesian Cross Mare
(*75% Freisian 25% Back Arabian)

~This stunning young mare is a product of her sire and has the temperament to delight an amateur and gaits to impress the professional!! Gifted with beauty, brains, and ability - she does it all - a loving companion, talented athlete, and photo model!!! She loves to perform, loves attention, and is eager to please.

Her Sire: BEREND (Baron) the Friesian", a purebred Friesian imported from the Netherlands, is a STER Stallion, and World Grand Champion saddleseat.... (read more) Baron's Sire is one of the top FPS Approved, Preferrent producing Sires of today, Tsjerk, and his Dam is Doetsje, also a papered Friesian STER Mare.
For more info: http://www.chooseyourgaitbreeding.com/WC-Baron-the-Friesian.html
Known for his intelligence, stellar performance in the ring, loving and kind temperament. Honored as an ambassador for the breed with an exceptional disposition and impressive show presence. *Sired by the stunning and talented performance Friesian stallion TSJERK 328.
Info on sire:
http://www.legacyfriesians.com/berend.html.
~see performance clip of him winning IFSHA world nationals:
Watch Baron the Friesian (Berend) World Champion Saddleseat-overview&list=LLr-irKnf5EjFzc4H0hAJS6A

Her Dam: is a stunning Black Freisian /Arabian cross mare
sired by Friesian Stallion TANZER whose dam is URSULA - USA's only Model + SPORT Mare, 3rd Level Dressage USDFSP - S (3*) - MP (8*) see info: http://ambassadorfriesians.com/Ursl.html. Out of a royally bred Black Arabian Mare.

Isabel is a solid mare in mind and body, she has the disposition and attitude and good nature that makes her a pleasure to be around. A wonderful partner, a talented and fearless competitor, and with the bloodlines to carry on these qualities in her future offspring. Her bloodlines are proven top to bottom.

*She is Friesian in type, carriage, build, and looks with the added beauty, fluid movement, stamina and heart of the Arabian. She has stunning gaits and i/ad as a Friesian Sport Horse #2007108. She has been professionally started and shows talent and ability to excel in the dressage ring. Bold and upright carriage, very uphill in movement with plenty of flexion and extension in her gait. She is naturally balanced and moves with rythem and grace. She has been given time to grow and develop while enjoying being ridden on the trails. Easy to manage and is forgiving of rider mistakes, making her suitable for an amateur. With continued training, she will take you to the top of the discipline of your choice while being your best friend in the barn and on the trails. Cooperative and easy to manage with bathing, clipping, worming, vet and farrier. Loves attention and pampering - great in a stall and has excellent barn and pasture manners. Young, strong, healthy and happy. Serious inquiries only apply - offering to an approved home. Possible consideration of leasing to an experienced qualified individual with intentions of continuing her professional training and competition in dressage.

---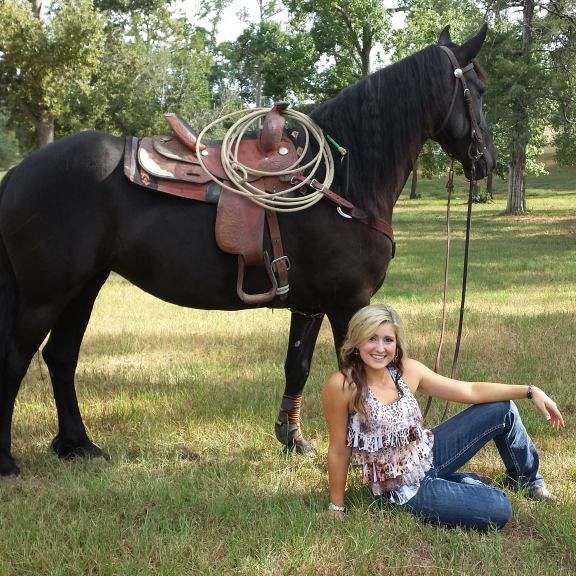 Semper Fi Ranch
We are located one hour northwest of Houston, in the middle of Texas Horse Country on 50 beautiful acres of rolling hills and old growth oaks. We breed for beauty, performance and trainability.