Additional Comments
FOR SALE: Americana de La Pecosa

PFHA# 57302

Rey Momo de Las Americas (Torbellino, Profeta, Classico) x La Deseada del Conde (Cosmos, Retorno)

DOB 1/11/2011 (currently 3, will be 4 January 2015)

If there's anything that can be said about Americana, it's that she has heart. We have asked her to do so many things since purchasing her as a yearling, and she has been willing and agreeable to it all- competing through Nationals in the performance division, and being tested in all sorts of trail and obstacle settings.... (read more) This is an all around solid horse that is going to be someone's best friend, as she has been mine.

As a show horse, Americana has it all. She accumulated 248 points in the 2014 show season, all in the performance division, in open, amateur owner and youth classes (an additional 24 points in youth, which count towards the rider). She has a LOT of good, controlled, brio and hits the board like she wants to break it into pieces. She requires a skilled Paso person (not a trainer, just someone with knowledge of Pasos) to maneavor her in smooth transitions in the ring (corto to largo, reverses). She was shown at Clemson, Gainesville, Asheville, Ocala, last chance Gainesville, and Nationals. She was high point performance filly in the Georgia Region.

On the trails, Americana is the bravest of any horse I have ever ridden. She has never spooked at anything that we have encountered together which includes, creeks, bridges, four wheelers, deer, snapping branches, etc. She just plows right along like the world belongs to her. She couldn't care less if you take her out alone or in a group. She jumps when asked (has cleared 3 ft, no problem, great form and smooth landing), will swim in a lake or cross a river with water up to her shoulders, has a flying largo, and a rhythmic, smooth as silk canter too. And her gallop....let me just say that she has the potential to put some quarter horses to shame at speed events. This filly can move out when asked, and she's happy to show you

Perfect for the serious show exhibitor or the competitive trail rider. If you have a curiousity about jumping or competing in timed events, she's right there with you. She's a brave horse that will prove herself to you anyway you ask.

Video of Americana during her class at Nationals (Monday, class 17):
www.PFHALive.com

Videos of Americana working in the round pen and arena:
Watch Americana de La Pecosa
Watch Americana de La Pecosa

Open to offers. Located at Hacienda La Pecosa: Paso Fino Show Horses in Dacula, GA. Delivery available.
---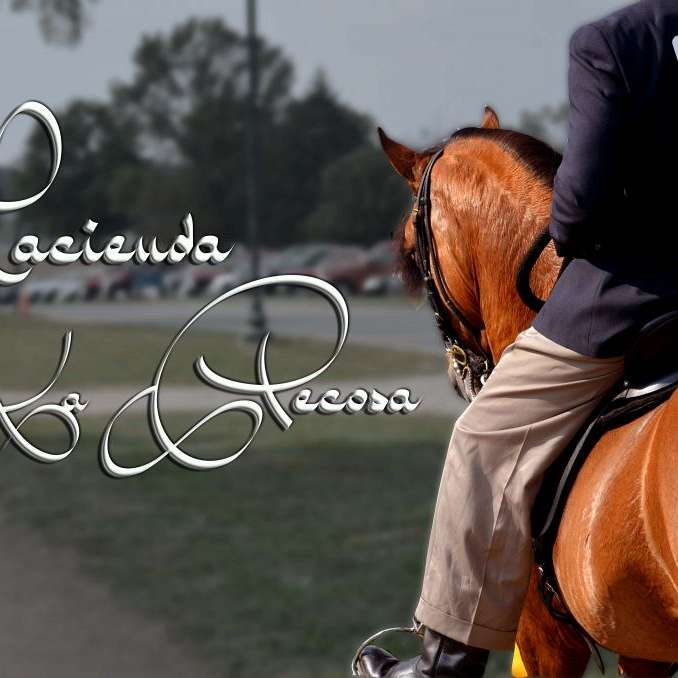 Hacienda La Pecosa Paso Fino Show Horses
Training, lessons, breeding & sales of Paso Fino horses.