Additional Comments
This big guy came to us because we had sold a number of our good working sticks. Pasture ropes cattle like a boss. Will pull and will hold. Can handle getting a few hits from nasty cattle, too. Currently working at the salebarn penning cattle each week. WILL LOOK AT A COW. Easy mover, with a nice ranch trot and lope. We now have him on the heading side behind the dummy and live cattle. He's quiet and controlled in the box. Breaks flat. Loves to rope.... (read more) Quarters out well on the heading side. Faces quick. Helping us break in fresh roping cattle now. Will go catch one for sure. Super easy mover. Stands for the farrier and has excellent feet. Sound and tough. Does not sunburn. Bathes, just likes to move around. Knows his basic natural horsemanship cues as well. My daughter has started running barrels and poles on him because he LOVES it. New video available. Currently we use him to day work on the local farms we work at. Catch big cattle and drag them on the trailer. He will earn his keep for sure. The owner will let him go a working home for $2500. Current coggins and ready to work. Gets along great with other horses. Loads in seconds, even in the pouring rain and in the dark. Can also work in a metal barn during a severe thunderstorm and keep his head. Hauls great. Very attentive and a FAST LEARNER to any new routine. Stalls great, doesn't chew or crib. Can't find any bad habits with this guy except if you don't have your throat latch on your halter tight and you tie him up, you'll look up and he'll be grazing. LOL He will continue to be here at our farm until sold. He's a good working man with lots of potential. NO BUCK NO REAR. DOES NOT NEED A HARSH BIT....Been riding him in an Argentina snaffle for working, and an o ring in the training pen. Multiple videos ready so far. Watch 12 yr old Tobiano Bay Paint Stout Gelding for Sale Watch 12 yr old Tobiano Bay Paint Ranch Roping Gelding for Sale
Watch Geronimo Testing
NEWEST VIDEO ..... Watch 12 yr old Tri Color Paint Ranch Gelding Expanding His Skillset

.....my email is mona_swifterthanu@yahoo.com for more details. Thanks for viewing!
---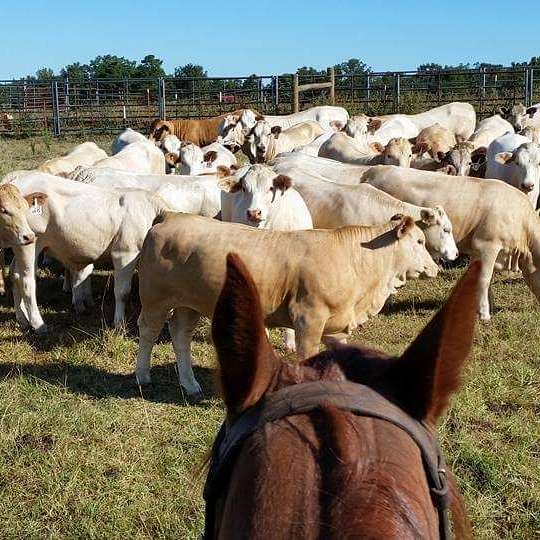 Riddle Cattle Company
We steward and raise crossbred beef cattle in the great state of Arkansas. Each year we build several preconditioned stocker and replacement heifer groups all worked from horseback. We enjoy turning out some good working ranch and kid horses throughout the year. Call Mo at 501 691 0048 for more information on any of our working horses or to fill your farm with some quality beef to fit any business plan. Grass fed beef available. Lane Riddle, Operator.