Additional Comments
SEE HER VIDEO HERE: Watch Wp 20141002 035
Peaches is a 3 yr old paint pony. She stands at 13.2hh. Her sire is a registered Pinto, and dam is a registered APPR pony.
She can be registered with APPR.
She was started in May. She can pivot, both front and back, sidepass, open a gate, and twotrack.
She backs very softly. She is learning to collect, and is extremely light on the bit. Will load and bathe well and is excellent for the farrier.... (read more)
Has been to several State parks camping overnight. Stands tied all night with no problems. Goes thru water just fine, log jumps etc.
Has been road ridden some, and is good with most traffic, but some big trucks make her nervous.
She is the perfect size for 4-H, if you want to stay in the pony class, and have an adult trainer.
Suitable for a small adult as well. At 5'8" I'm too big for her, but she carries me very easily anyway.
She is a natural jumper. Would be an excellent jumper prospect... Haven't spent a ton of time on jumps, but the ones i have she pops right over like a pro.
Excellent with other horses. She is a follower, not a leader in the pasture.
She is not suitable for a very young child or beginner. Must be a confident, experienced rider, or have access to a knowledgable instructor.
Please call or email for more pictures or any questions.
Purchase requires at least one, one hour lesson on Peaches.
Price negotiable.
No text messages.
---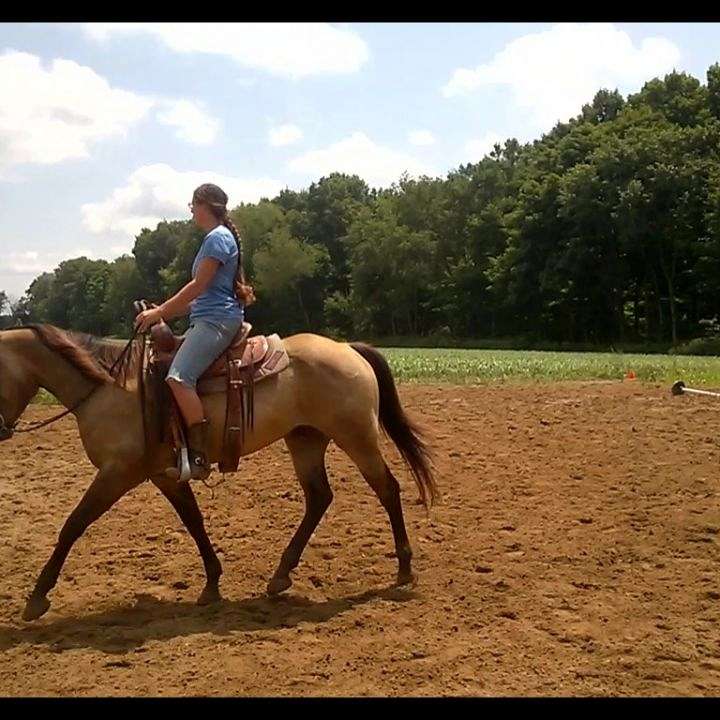 Rw Quality Started Horses
We specialize in starting young horses and putting a solid foundation on them. These days, the best insurance policy a horse can have is good training, and being able to be handled easily, by anyone! We try to do that for all our horses. We want each one of our horses to end up in a home where they will be highly valued, understood, and can understand what is asked of them. We strive to put an easy handle on each of our colts with the hope that their cheerful obedience and good attitude will make them a valuable asset to whomever buys them.... (read more) We attempt to place our horses where they will excel....(If you want a relaxed trail horse, we probably won't sell you a horse that we feel would be best suited to high end completion.) If you decide on one of our colts, we will give you a lesson on their training, making sure that you fully understand each other before you take him home.