Additional Comments
Well our kids have finally done it. They out grew good Ol' Major. Cole is ready for a step up rope horse and Sarah wants to do barrels faster. He has been an amazing confidence builder and done such a good job at giving so many children the opportunity to fall in love with riding a horse. He is full of good experiences for a young child or beginner rider. He is the perfect first horse. He is sound and has plenty of time left to be a good babysitter for a new family.... (read more) We entrusted him with many leadliners and many lesson kids as well as our own. He does it all. He is the greatest trail horse, afraid of nothing, the perfect walk/trot lesson horse, leadline, playdays, slow tracking a roping dummy. He canters for an big person easy, a young kid has to kick a lot to get him going. A good loving family is a must as he is part of ours!
---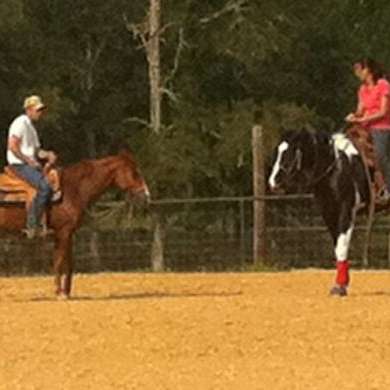 Draggin' S Arena and Stables
We have a passion for starting young horses with a quiet, gentle hand. We put a good all round foundation on our young horses so that they can go on and be successful in whatever disipline their future might hold. They get good solid arena work along with outside riding over 500 acres with a verity of different terrains. Ryan has shot show experience, working cow horse experience and roping experience.... (read more) Jennifer has assistant trained in the cutting horse world, show horse world and has been a professional barrel racer for 8 years. She prides herself in quiet, well-minded barrel horses that enjoy their job.