Additional Comments
Rattler"
What a Cute little Guy.. He comes with FLASH and CLASS.. He is Broke to ride and drive. He is 8 yr old and about 12 hands ( I will Tape him Tonight). he is Great to handle, catch, load, trim, bath, etc. Just about any kid can Ride this pony. I will have videos later tonight as well It is tooo Hot to do it in the day time.. He is a traveler, loves to get out and Travel, Great on the trails, in a group or alone, he is great in the mountains and in TOWN.... (read more) no spook, no bit, no kick, no rear and NO Buck.. he is a Sweet little guy.. He has no issues with noises, dogs, 4wheelers, has been ridden in parades, in the streets of Las Vegas, he is just a nice all around guy.. Owners are asking $800 for him.. come try him out you will fall in love.. He is current on Worming.. NO SHOTS, feet are trimmed and ready to go.. He is A little thin but gaining nicely. When the owners got him he was really wormy.. He is Currently Boarded at Slick Ponies Ranch in Beaverdam Give me call to come try him out.. (435) 680-5895

more pics and videos coming tonight at
www.facebook.com/slickponiesranch

He will be gelded this week...
Shipping Notes
$2.00 a mile from Beaverdam, az
---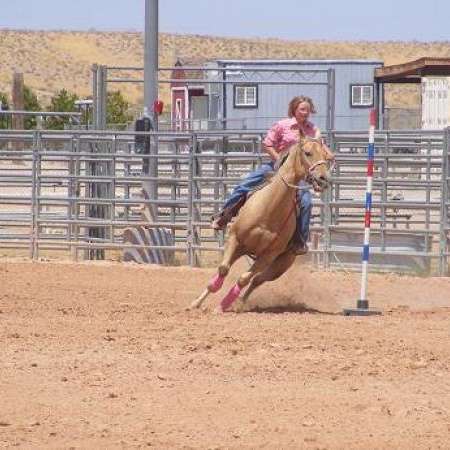 Slick Ponies Ranch
Slick Ponies Ranch Always Proud to offer Quality Family Safe and Proven Rodeo Horses and Ponies. For the past 20 years we have strived to produce the best performance horses for all different disaplines. Our Horses are versital in every aspect of horse eventing. 2014 Standing at STUD: " Tony Tiger Bee" AQHA Grey Stallion Proven sire~~ Rope~ Ranch~ Barrel Horses~~ ~~~Babies have BIG hips and Baby doll heads.... (read more) 2014 Stud Fee: $350 (Live cover only) 2013 Standing at STUD: "ECH MR INDICATIVE"" AQHA Sorrel Stallion Proven sire of ~~Rope~~Reiners~ Barrel Horses~~ Standing in Beaver Dam, AZ Breed fee is $500 (435) 680-5895 Brandy Luscomb 2011 Foals: "Hanckocks Barmaid" Blue roan Filly "Tivios Fancy Carmel" Cremello Gelding "Alota Whimpy N Tivio" Buckskin filly " Dealing out Cash" Black Filly Breeding includes. TIVIO~ DOC BAR~ HANCOCK~DASH FOR CASH~ PEPPY SAN~DRIFT WOOD~ REED~ POCO~ LEO~ EASY JET~ RAISE A NATIVE~ SIR QUINCY DAN~ HUBBA STAR~ GO MAN GO~ BENITO SAN~ BONITA TIVIO~ 2012 foals are Here!! "PAY CHROME IN CASH" AQHA Stallion. Breeding includes: First Down Dash~~ Dash For Cash~~ Proudest Effort~~ Special Effort~~ Bred for Speed and Conformation.. This is our next standing stallion in 2015... He will be offered for sale at the price of $50,000 2012 AQHA "Sorrel Filly" super conformation and color.. and Exceptional Breeding.. 2012 foals Breeding includes: SIR QUINCY DAN~ MR. INDICATIVE~ HOOKED ON RUN~ DASH TO FAME~ PROUDEST EFFORT~ SPECIAL EFFORT~ SOLD SHORT,~ROCKET BARS~ DOC BAR,~EASY MOVE~ JET ON~ POCO POBOY~ RAISE A NATIVE~ EASY JET,~HUBBA STAR~ Slick Ponies Ranch strives for excellence in the performance industry. We also offer very nice REGISTERED QUARTER PONIES. If you are looking for a great bred horse with a great mind give us a call. (435) 680-5895 Join us on Facebook. http://facebook.com/Slickponiesranch