Additional Comments
*PRICE REDUCED!!*
Kir Royale, aka "Liam," is a rare homozygous champagne TWHBEA registered stallion - no matter what color mare he is bred to, 100% of his foals will be champagne. He is DNA tested to be gold champagne with one copy of the agouti (bay) gene, ee Aa ChCh, meaning he can produce all 3 shades of champagne - classic, golden, or amber. Liam's sire, Eb's Wind Dancer, was one of, if not the, most popular homozygous champagne TWH at stud until he passed away.... (read more)
Liam has an outstanding disposition, he is very sociable and gentle. His conformation is also outstanding; he is smoothly put together with a gorgeous, keen, refined Walking Horse face, great expression, short back, correct legs, and good shoulder. Liam gaits at liberty when turned out, and has a smooth as silk racking gait under saddle. He has some speed to his gait as well! He is very willing on the trail and will ride all day, as long as you ask him to. He goes through mud, ditches, creeks, etc. We do still consider Liam to be green and he will need an experienced rider to finish him out under saddle.

As a 2 year old last year, Liam was bred to 3 of our own mares. Every single mare he bred got in foal on one cycle! All of his first 3 foals have hit the ground, all are gorgeous amber champagnes, 2 fillies and 1 stud colt. So far we strongly feel he has all the qualities needed to make a great breeding stallion. If you want to produce correct, sane, pretty, naturally gaited foals with the added bonus of champagne color every time, look no further. This young stallion is the total package and will also be a suitable trail riding mount with some more work put on him. Don't miss out on this color goldmine if you are looking to start or add to your breeding program!

---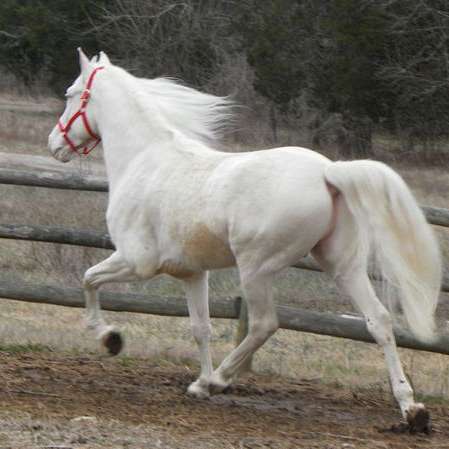 Heaven's Gait Ranch
We are a small family owned & operated farm located in middle Tennessee. We breed, raise, and sell quality Tennessee Walking and Spotted Saddle Horses suitable for show or pleasure. Every horse we offer is trained by us, from the ground up. We are proud to offer horses for every market, from unborn (in-utero) foals, to weanlings, yearlings, started and finished trail horses, and broodmares.