Additional Comments
"Huey" is a lovely, beautiful and sweet gelding. Very nice gait, soft gentle canter. Barefoot and sound, gaits bitless. He is an absolute love, extremely gentle, gets his feet trimmed with the grinder with no issues at all, and is stunningly beautiful. Huey is already doing lessons even at his young age - he is sweet, honest, not spooky and tries hard. Goes bareback and ponies other horses. Trailers, bathes, meets you at the gate. Goes thru all our trail obstacles easily and with no concern whatsoever.... (read more) And he's GREAT on the trail!
Like all my Tennessee Walkers, Huey also trots, so that I can use him in lessons to teach people to post.
Huey is a beginner safe horse, although of course we recommend that all beginner thru intermediate riders take lessons. Huey has been working as a lesson horse for 2 years now. Huey moves off leg, leg yields, turns on the forehand, opens and closes gates, ponies other horses. He is not at all herd bound or barn sour. Doesn't care what position he's in on the trail rides, and can even walk slowly to "keep up" with the quarter horses. Up to date on feet, deworming, vaccinations, teeth floating and body work.

---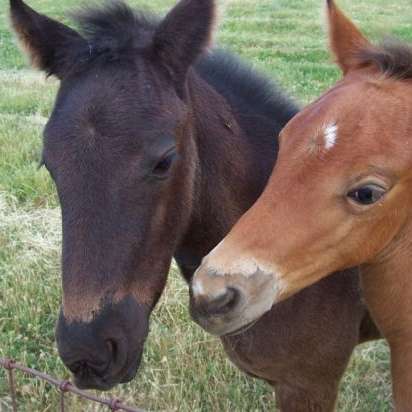 Allison Acres
Allison Acres, Galt, CA (209) 224-4304 www.allisonacres.org Owner and instructor Cindi Scoleri: • ARIA certified: riding instruction and stable management • Current California substitute teaching credential: this means Cindi has been fingerprinted and background-checked. BA in psychology, teaching credential program completed, graduate study in education.... (read more) Feel confident about where you send your kids! Practice Leadership, Assertiveness, Compassion and Responsibility Lessons for adults and kids: natural horsemanship, groundwork, gymkhana, trail, obstacles, desensitization training, clicker training, lower level dressage and jumping, pony rides, birthday parties. Boarding:  Stalls or group board  Dry lots and low NSC feed for special needs horses  Covered lighted arena with new sand footing, outdoor arenas, training hill, paths/trails, round pen, washracks, tack space  Additional services: Training and exercise for your horse, hold for vet/farrier, whatever you need! See website for more photos and current prices!