Additional Comments
Smokey 2001 APHA SPB Gelding 15hh

Video Link: Watch Smokey 2001 APHA Buckskin Gelding-ZFUk58My_IK5OBjCGRg

Pedigree Link: http://www.allbreedpedigree.com/gi+gis+desert+smoke

FOR SALE $3500

We don't come across geldings like this boy every day! Smokey is a buckskin beauty that is registered APHA as a Solid Paint-Bred but he certainly qualifies for papers with IBHA if his next owner is so inclined.... (read more) This handsome guy is a trail horse deluxe. He goes out in a group or alone and will go wherever you point him. Water crossings, heavily wooded trails, hills, etc. Smokey has been there and done that. If you want to stand out at Otter Creek this season, we suggest that you sit on this handsome buckskin boy.

Smokey is an total sweetheart who loves to be doted on. He gets along very well in a herd situation and is currently out with mares as well as another gelding. He is low in the pecking order and seems content there. He is quite the clown and can be found carrying his grain dish around at anytime (you know, in case someone wants to offer him a treat).
This easy keeping guy is a big fan of treats but is always respectful. He is a pro at making his lips contort if he thinks you might have something. Smokey is easy to catch, ties, cross ties, picks up his feet, tacks up quietly, and trailers nicely. He is barefoot with good legs and feet. This guy may have worked nicely on the longeline once upon a time but those days are over. Now, he will go around grudgingly a few times and then look at you pitifully to ask why you are chasing him. This is a tack and go horse. He is far too lazy to require ground work before riding.

Under saddle, Smokey is smooth and a cute mover. He profiles very nicely and we think he would look really nice in English tack. We will get a better video as soon as footing allows or we make a trip to the indoor. For now, we have a short walk/trot video on very slick snow. Smokey is sound, sane, and quite the snuggler. Our only complaint with this guy is that he is really not a fan of the vet so vaccines and bloodwork are best done as quickly and sneaky as possible!
---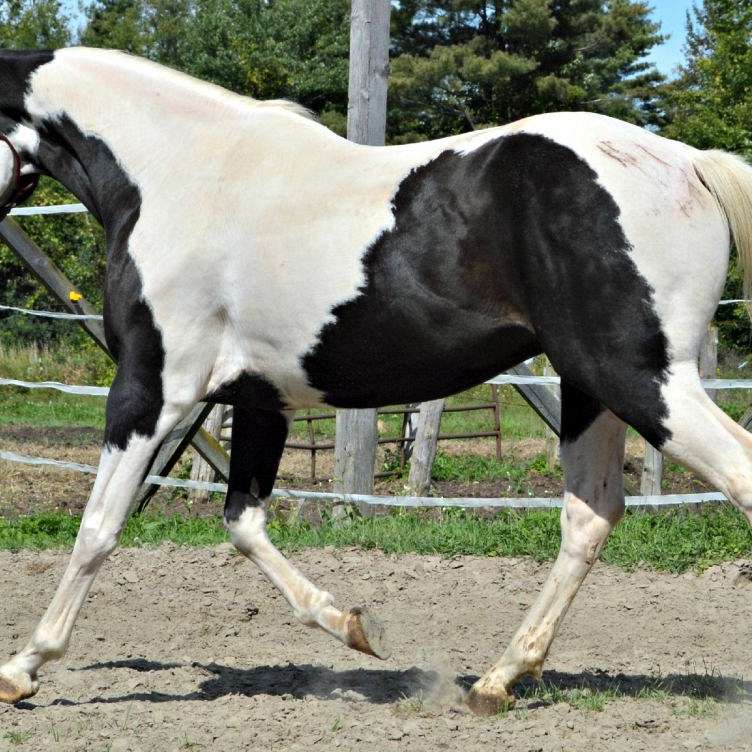 Red K Stable
Equine sales. Be sure to visit our website!