Additional Comments
Ice is truly the "total package" when it comes to combining color with quality and performance.
His genotype is ee AA CrCr nT, so when bred to black, chestnut and bay mares, he can only sire buckskin or palomino offspring with a 50% chance of tobiano per foal. He can never sire a smoky black foal! Ice is one of, if not the only, double agouti/double dilute stallions out there with a proven performance record. He is the 2014 SSHBEA Sport Horse World Grand Champion, as well as a multi-time divisional WGC and WC for SSHBEA Sport Horse, a Supreme Champion with SSHBEA, and a TWHBEA World Versatility Champion.... (read more)

Additionally, he is a laid-back stallion with an outstanding temperament and intelligence. Ice is frequently taken to shows and trail ridden alongside mares, geldings, and other stallions with no issues. He is naturally gaited; very square with no pace, just a super smooth 4 beat walking gait, and natural canter. He would be an exceptional cross to square up your pacey mares so you can raise a foal that doesn't need anything "extra" to get into that comfortable, perfectly smooth gait.

Ice is extremely versatile, athletic and sure footed. He is an absolutely outstanding trail mount as he handles all terrain - hills, mountains, rocks, etc. - with ease. He can ride all day and does not "burn out" on his rider. Ice has been barefoot his whole life - he has the best hooves of any horse we have ever had here on the farm.

Ice's foals so far are extremely friendly, curious, and bold, just like their sire, with his natural 4 beat gait. All have been built very well and very keen/sharp with plenty of eye appeal and, of course, color. His 3rd foal ever and first born for us here on the farm, Iced Caramel Latte, won the 2014 SSHBEA Sport Horse Colt In Hand World Grand Championship!

If you want to produce a palomino or buckskin foal that can do more than just look pretty in the pasture, then Ice is your guy. As if he didn't already have enough to offer, it is worth noting that he is also one of the only homozygous agouti, double dilute stallions out there that is also tobiano!

---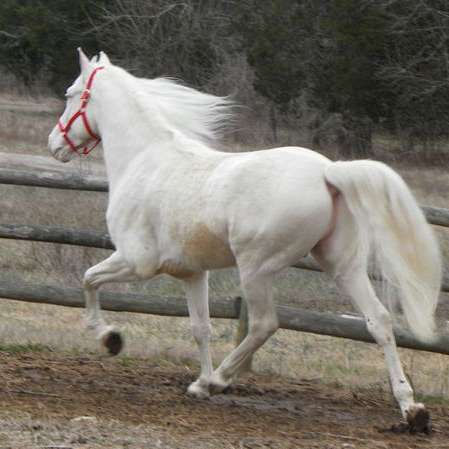 Heaven's Gait Ranch
We are a small family owned & operated farm located in middle Tennessee. We breed, raise, and sell quality Tennessee Walking and Spotted Saddle Horses suitable for show or pleasure. Every horse we offer is trained by us, from the ground up. We are proud to offer horses for every market, from unborn (in-utero) foals, to weanlings, yearlings, started and finished trail horses, and broodmares.