Additional Comments
2010 registered Tennessee Walker Mare.
Shotguns Dainty Image Kimber.
Apple GaitN Shotgun x Generators Dainty Pearl.
Kimber was lightly started under saddle in her 3 year old year. She is in full work now and doing great. Has about four months of part time time riding, a couple per week. Really smooth running walk and her canter is coming along. Has eagerly tackled every trail obstacle weve put her to including clambering up and down huge tractor tires.... (read more) Was more worried about water but as you can see on her webpage and video she did nicely cross it five times on her first day working a water crossing. Not spooky but still young so recommending an intermediate rider and up or a trainer. She is not super easy to handle on the ground - she is not mean at all but shes still got a very baby-ish mind and is often too distracted to respect you, so you have to make an impression, and she is a horse who can handle a stern correction. So an assertive handler would be best, not a kids horse (yet!) Up to date on teeth floating, deworming, feet trimming (super sound barefoot even on gravel) and bodywork. Her owner just found out shes having a baby, so she is putting this mare up for sale. Shes about 14.3 hh.
---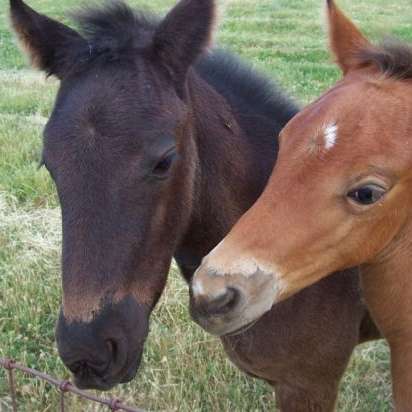 Allison Acres
Allison Acres, Galt, CA (209) 224-4304 www.allisonacres.org Owner and instructor Cindi Scoleri: • ARIA certified: riding instruction and stable management • Current California substitute teaching credential: this means Cindi has been fingerprinted and background-checked. BA in psychology, teaching credential program completed, graduate study in education.... (read more) Feel confident about where you send your kids! Practice Leadership, Assertiveness, Compassion and Responsibility Lessons for adults and kids: natural horsemanship, groundwork, gymkhana, trail, obstacles, desensitization training, clicker training, lower level dressage and jumping, pony rides, birthday parties. Boarding:  Stalls or group board  Dry lots and low NSC feed for special needs horses  Covered lighted arena with new sand footing, outdoor arenas, training hill, paths/trails, round pen, washracks, tack space  Additional services: Training and exercise for your horse, hold for vet/farrier, whatever you need! See website for more photos and current prices!