Additional Comments
Hank is a flashy strawberry roan geilding. He is very smooth to ride with a great flat walk and a silky smooth saddle gait. You pick the speed and he will do it for you. Hank is very well behaved and is ready for any challenge you point his way. He has a cooperative attitude, willing spirit and a loving personality. Hank has been trained right and knows to listen and trust his rider. He is confident, sure footed and eager to please. He is strong and stout and capable of carrying heavier riders.... (read more) Hank enjoys people and will come to you where ever you are. His ground manners are excellent and so are his gaits. He is easy to catch, halter, lead, clip, bathe, tack up, load/unload and trailer. On the trail Hank is great! He is as calm as a kitten and will cross anything you put in his path, climb hills, carefully pick his way down steep embankments and he is not spooky either. Hank is very level headed and has been exposed to deer, to mount/dismount, walks and gaits on a loose rein, neck reins, rides great, listens to leg and verbal cues and has a soft easy to cue mouth. Hank will stand for hours to be bathed, groomed and handled. He is friendly, super smooth to ride and just stunning to look at. Hank is an excellent trail mount for just about any level rider from beginners on up. They don't get any nicer! He is fun,easy to ride, easy to handle and willing to do what ever you ask. He is a very pleasant horse that is a joy to ride and a pleasure on the trail!
Shipping Notes
We can help arrange shipping.
---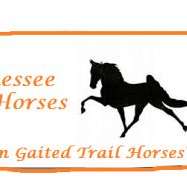 Tennessee Trail Horses
Tennessee Trail Horse is a family owned and operated sales facility for naturally gaited trail horses. We are honest hardworking, Godly people who love to ride horses. Our purpose is to match riders with their perfect horse. We are located in southern middle Tennessee right in the middle of Tennessee Walking horse country. We specialize in offering only the very finest of gaited horses and matching the ideal horse to the needs and wants of each individual rider or buyer.... (read more) All of the horses we offer for sale are very calm and gentle. They all have lots of trail experience as well as loading, clipping, bathing and shoeing experiences. All of our horses are dependable, reliable, surefooted as well as great tempered.They're all sound and healthy as well as up to date on all shots and vaccinations. We don't want to just sell you a horse. We want to sell you a companion and life-long friend.