Additional Comments
I'm Already Smokin (AKA - Smokin) 2007 AQHA Grulla Gelding, 14.3 Hands, Stocky Built, Beginner Safe! Smokin is a professionally trained champion Versatility Ranch Horse, who loves working cows. He has competed and won in competitive trail event, and done play day gymkhanas. He is 100 % Sound, and has always had the best care. UTD on shots, wormer, teeth floating and farrier work. He has no bad habits or vices, laid back and easy to get along with.... (read more) He loads, ties, clips, and bathes wonderfully. His is novice rider and kid safe, in any situation, he would be a fantastic trustworthy horse to build confidence. Never herd sour, or barn sour, rides out well in a group or alone. He is the perfect gentleman! Smokin' is the sweetest! I was a 53 year old beginner when I bought him! He has allowed me to learn to ride without worrying about what my horse was going to do. He earned me a buckle in Ranch Versatility! He is cowy and loves to move them, both in and out of the arena. Smokin' and I have attended many clinics and have taken many private lessons in working cow horse and horsemanship. We have gymkhana'd. . . .we have ridden hundreds of miles of trails. . .we have moved cows and chased cows and drug cows. . . There is not much this boy and I haven't done and he has seen me through it all! :-) There is no better trail horse. He is easy-going and takes care of his rider! He will pick you up off of the fence, counting block, trailer fender, or rock! We have participated in ACTHA competitive trail rides and placed First and Third!! He has been good to me! I have had my grandkids on him, as well as my boyfriend's 80 year old daddy! Smokin' takes care of his rider on the trail and in the arena! He is now ready to go take care of a new rider as I move on. A perfect home is a must, he deserves the best! Make an appointment today to come ride Smokin and you will fall in love, an indoor arena is available to use. Please feel free to give us a call with any questions, all major credit cards are accepted, Smokin comes with a satisfaction guarantee and vet check are welcome!
Watch I'm Already Smokin 2007 AQHA Grulla Gelding!!!
---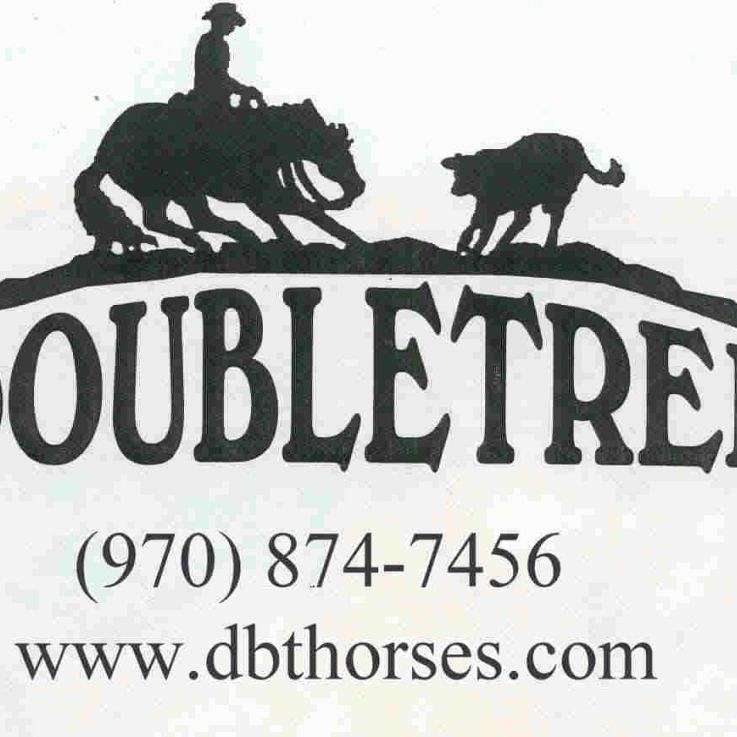 Doubletree Horse Farm
There is not an obstacle a rider cannot overcome with enough time in the saddle. We live in a world of instant gratification and overnight success, but we all know that real achievement comes from time and dedication. Doubletree is a dream built over thirty years, when you work on something for that long you are proud of the results. The true joy of having succeeded in building your dream is sharing it with others.... (read more) Here at Doubletree we find joy in all facets of the rider-equine relationship. When our riders leave the show arena in first place we are proud, and we find and equal joy in watching the face of a child light up during their first time in the saddle. When a person starts out to create a place like this, they need guidance and support. Carl's early days as a trainer were influenced by the teachings of Tom and Bill Dorrance whose philosophies in training horses started the modern trends now so touted by all successful horseman. Carl will admit that he was not sure about his capabilities at first going out on his own. So by riding with and studying with people like Al Dunning, Sandy Collier, Ted Robinson, JD Anderson, John Slack, Todd Crawford, Todd Bergen, Casey Hinton, and others gave him the confidence and knowledge to train full time. Al Dunning was most influential in convincing Carl that he was good enough to go out on his own. So in 1983 Doubletree started rising out of the ground and to this very day improvements are being added. The constant evolution of the industry and our riders pushes us to always be looking to better ourselves. Over the years Carl has developed what he calls "The Program" which is made up of exercises. The exercises break down movements like for example a flying lead change into about 4 exercises that can be taught at the walk then those exercises are put together in such a way that the horse and rider can do them at the lope with no problem of comprehension. "The Program" can be taught to all horses no matter what discipline they are intended for. The beauty of "The Program" is it doesn't assume a rider or a horse already has a lot of ability, it teaches at a very fundamental level to always be thinking and feeling what your horse is doing. It gives a rider the confidence that what he asks a horse to do at a walk he can ask it to do at a lope, and what he asks in an arena he can ask on a mountain trail. The trust built between horse and rider in this simple step by step approach is a great foundation for a meaningful relationship with your horse. Riders will be amazed by the benefits of a clear line of communication between horse and rider. The beauty of a horse is how truly versatile the animal is. It provides thrills in the arena, jumping, turning barrels, bending poles, sliding stops and dizzying spins. A great source of transportation on the trail whether it be on a sandy beach or a rocky mountain side every step taking you on a journey that simply wouldn't be the same if taken on foot. It goes beyond riding, horses are good for the soul the worst day can be made better just by feeling that velvety muzzle in your palm, and the peace we find with these faithful companions is second to none. The troubles of the world melt away as soon as you're in the saddle. This is why at doubletree we advocate an all-around horse, capable of many different things. Even if you only plan to casually trail ride, learning the principles of sound riding in the arena is beneficial. On the other hand if you have a horse you want to perform in the arena, taking it to the forest and going it over logs and through streams will help you both physically and mentally. These creatures never cease to amaze in what they are able to do if only we will trust in their ability and help them reach their potential. When Versatility Ranch Horse first started to become popular Carl immediately started putting on Versatility Ranch Horse Shows at Doubletree because of his belief in the all around horse. The AQHA has even adopted some of his philosophy for their program. Besides the training Doubletree has been guided into the performance world by staging shows, clinics, and all kinds of events all year round to provide the horse community with a facility in which to put on their functions. One is only as successful and he believes himself to be and Carl truly believes that he has not only been successful all these years but that he has loved the adventure that has unfolded because of his efforts. Carl has owned a world champion, trained for clients two reserve world champions, won a lot of AQHA points, raised and trained many winners in NRCHA, NRHA, AQHA, ApHC, and PHBA, but he firmly believes that the greatest satisfaction in life comes in the ride itself on a well-trained horse no matter what you are doing. No objective or desire to too small or too large for Carl's attention. He loves giving lessons just as much as performing at the World Championships. Anyone lucky enough to have horses and share in this life knows that it doesn't come easy. Anything worth having rarely does. Doubletree has evolved from merely a dream into the finest full service equine facility in western Colorado. It sits under clear mountain skies nested at the base of the beautiful Grand Mesa. What was once adobe dirt is now a place that all riders can come, regardless of their inexperience and achieve their goals as well Whether you attribute the all this to a generous creator, a cosmic accident, or a stroke of luck at Doubletree life is good today. The feeling of being so blessed gives everyone here the enthusiasm we all have to share this all with you, whether it is in the form of lessons, shows or just showing you around the farm. Carl has said it before, and again he extends the heartfelt invitation, come and have a good day with us.