Additional Comments
SF Lemondrop SOLD through the 2nd Annual Solomon Farm Auction.

For more great deals check out the NEW -- 2013 Solomon Farm Second Chance Auction -- http://solomonfarm.hibid.com/auctions/current -- Bids Open Nov. 7st and Close Nov 12th. Check It Out!
More photos and video available through the above link.

Bidding opens Oct. 31 and closes Nov 6.

2011 15.2 h. RPSI mare (Le Mode x Nightshade x Meisterwind/T) The last of an era...... (read more) Lemondrop is the last in a series of hunter stars produced by our grand old Meisterwind (Trak.) mare Nightshade. The Nightshade offspring have what it takes to get attention in the hunter ring -- when she's in motion, people stop what they're doing to watch! SF Lemondrop is a full sister to SF Lorelei, who is a successful hunter mare, and who also placed 2nd in the best company of a large filly class at Upperville, ranking nationally in 2008 hunter breeding classes.

Lemondrop looks much like her big sister at the same age, and is a young mare who will shine in the hunter ring. From a family of successful show horses, Lemondrop shines with grace and beauty. By our imported RPSI stallion Le Mode, who is proving to be an excellent producer of typey, kind hunters with lovely faces, and out of my own personal favorite mare, Nightshade, this filly is turning out just as good as we'd hoped. Lemondrop's looks and talent will take her far, but she'll go the rest of the distance by means of her wonderful temperament. If you are looking for a real partner in the show ring, this is a good mare to consider. She's curious, personable and sweet.

Lemondrop is half sister to top-rated hunter and hunter breeding champions Dakota, Sentimental and Round Midnight (see pictures in Lorelei's gallery), and young-rider dressage horse Evensong, all out of Nightshade. Nightshade consistently produces horses that are both beautiful, and fun to ride and show. On her sire's side, Lorelei has many brothers and sisters in the hunter ring as well. Lemondrop is registered and branded with the Rheinland Pfalz-Saar Intl. Lemondrop is sound and up-to-date on vaccinations, deworming and farrier. She looks to mature to 15.3 - 16 h.

Please feel free to call with any questions - 605-685-3089 Ann, or our trainer Martijn Stuurman at 508-560-1813.
Shipping Notes
Equine Transport companies names and contact information will be provided for shipping, and 2 weeks board will be included in the final selling price to allow buyers time to arrange shipping. If more time is needed board will be pro-rated from the current monthly board fees of $275/month.
---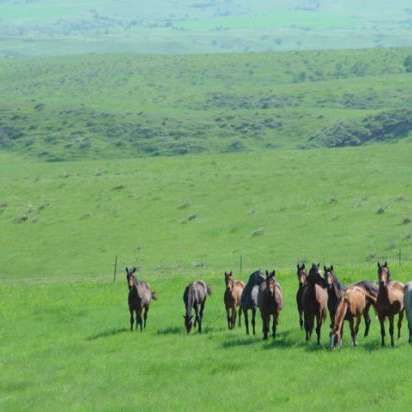 Solomon Farm
Solomon Farm breeds quality RPSI sporthorses on 4,000 acres of prairie hills and valleys. Standing imported stallions Der Graf (Donnerhall x Pik Koenig) and Le Mode (Limited Edition x Symbol) and RPSI Pony Book 1 Welsh B stallion Smoke Tree Snapdragon. Our foals regularly top nationwide results and our alumni are performing across the USA for happy owners!