Additional Comments
Carter is super fancy with an amazing personality. He is very uncomplicated and so much fun to ride. No vices and 100% sound. Carter is an easy keeper and eats anything. Extremely athletic with up hill confirmation. Carter is built to jump and shows it. He collects easily does his changes and is an attractive mover. He loves to please and wants to be your best friend. Carter is 16.1 Hands, 4 years old and is beautiful! He is a very light chestnut with a flaxen mane and tail with chrome.... (read more) He is currently schooling basic dressage and jumping small jumps. He is so naturally balanced and everything comes easily for this horse. Carter is uncomplicated enough for any amateur to bring along and talented enough for the serious competitor. He will do anything you want, pull his mane, load him on a trailer, take him on a trail ride with your friends or school him cross country. He is very brave and will jump anything. There is nothing not to like here. Don't miss out on this amazing horse!!
---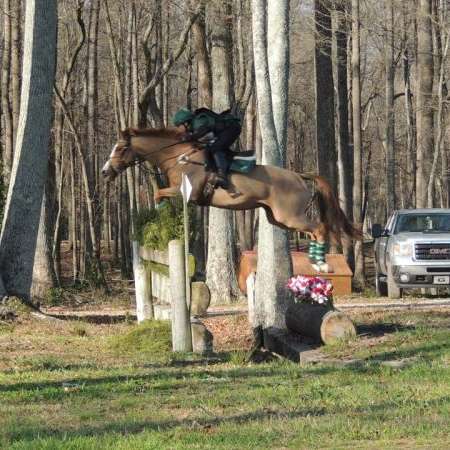 Sarah Davis Eventing
Three day event rider and trainer with over 15 years of experience. Sarah has trained with some of the top three day event riders in the industry such as Kim Severson, Phillip Dutton, and Stephen Bradley. She learned from a young age that her niche is with the Thoroughbred. Their sensitivity, extreme athleticism, and sheer will to perform has made every thoroughbred that she has ridden or trained an amazing experience.... (read more) It wasn't till she got more involved with the thoroughbred racing industry did she really get to know very intimately about the very beginning of the lives of so many of these wonderful creatures. The goal of SD Eventing is to give as many of these amazing horses a chance to complete college so to speak and learn a career other then racing. This way they can have a successful life after the racetrack. In addition to riding experience Sarah is also an A rated pony clubber and has a degree in Horse Management. She has managed and trained for several successful farms such as Hillbrooke Farm, Alex Schoepp International Horse Imports, Full Gallop Farm and is now partnered with Kenny Huffman Thoroughbred Racing. Sarah is currently training out of Palmetto Thoroughbred Training Facility. To keep her education going Sarah trains with top three day event trainer Simon Eades.