Additional Comments
Blue is a 15.3 hh, 9 yr old, Blue Roan Gelding. He is a TWH and was born and bred in Kentucky. I purchased Blue from Adam's Horse & Mule Co two years ago and he has been an excellent trail and endurance event partner.
Blue has been trail ridden in multiple states and though out national forest and reserves. He is the perfect horse for someone who wants a horse to trail ride and endurance event weekends! The video on Blue allows him to speak for himself!... (read more) He runwalks and shakes his head EVERY step of the way and man is he SMOOTH!!!!
Blue has been a family horse and has been on trail rides with multiple riders. He has camped and will picketline tie as well. Blue is easy to catch, clip, bath, tack-up, load, and handle. Beginners that know the basics of riding will get along with Blue just fine. Blue has had several months of professional gaiting, and trail training. He has been ridden around farm equipment, trailers, and lots of wildlife. On the trails he is always great! He will go up or down even the steepest slopes, across deep creeks, over downed trees, and over all types of rough terrain while still being sure footed. He has a great personality and a great attitude about whatever he is asked to do.
A beautiful and big hearted gelding, I hate to part with Blue, but have to for personal health reasons. Looking for a great home for Blue. Please only interested parties need inquire.

FYI, I am also selling Rolex a 4 y.o. Missouri Fox Trotter gelding (see ad) and a fantastic 2011 Trail Rider Bumper-pull 2 horse Trailer with Living Quarters (see ad). Willing to give someone an excellent package deal! Set-up is perfect for ACTHA and/or AERC events.
---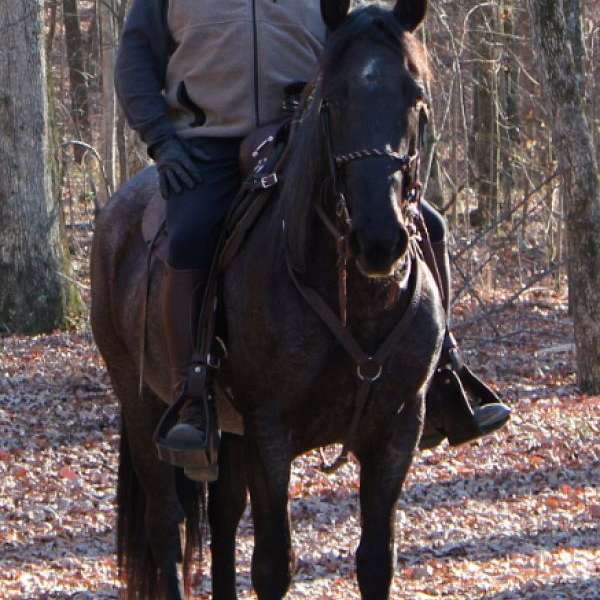 Equine Services LLC
Outfitter for Endurance Riders