Additional Comments
Fancy That Doc Olena (AKA Lolita) is a 5 year old 15hh registered Quarter Horse mare. She is a dunn by Mr Poco Paddy out of Cute Little Lynx with a star that tapers into a stripe that goes all the way down to a snip. She is light boned and very athletically built. This mare has been in training for eventing, running Cowboy Mounted Shooting patterns and taking out dudes on trail rides. She has been shot off of but isn't wild about it. She is REALLY catty and quick, a super athlete.... (read more) She would excel in any speed sport, team penning, sorting; you name it. And you should see her jump! She is talented and has perfect natural form over fences. This mare is ideal for cowboy dressage as she is light off the leg and seat and collects beautifully. This mare wants to work. She trail rides in a halter bareback, goes through water, up and down hills etc. I have taken her out to move cattle and she loved it! I think she would love sorting /penning/cutting. She is also fast! She wants and loves to go and does not get hot afterwards. She is a very intelligent and sensitive horse. She was started by a natural horsemanship trainer who used mostly Parelli techniques and she is amazing with her ground work. She jumps, sidepasses, changes direction etc"¦ she is very soft and responsive. Lolita has been started on barrels and LOVES it! She collects nicely, bends and flexes at the walk trot and canter, moves her shoulders and hips independently of each other crosses through water with no issues; this mare is broke! She goes in a snaffle or a full bridle and she is just as responsive in both. She can be ridden bareback or in a halter. She naturally changes her leads at the canter for barrel turns and somebody is going to fall madly in love with this mare! Lolita is a great trail horse, she loves to go out and is very sensible, she would excel in speed events would be a heck of a cowboy dressage/competitive trail horse, you name it. Don't miss out on this competitive sexy mare! Check out her sale video! Watch Lolitta the Beautiful Asking 7000. I'm looking for a special home for this exceptional horse. Call 602-565-1514 for details.
Shipping Notes
Having trouble selling your horse? We can help! Reasonable prices for training, tune ups and sale videos!
---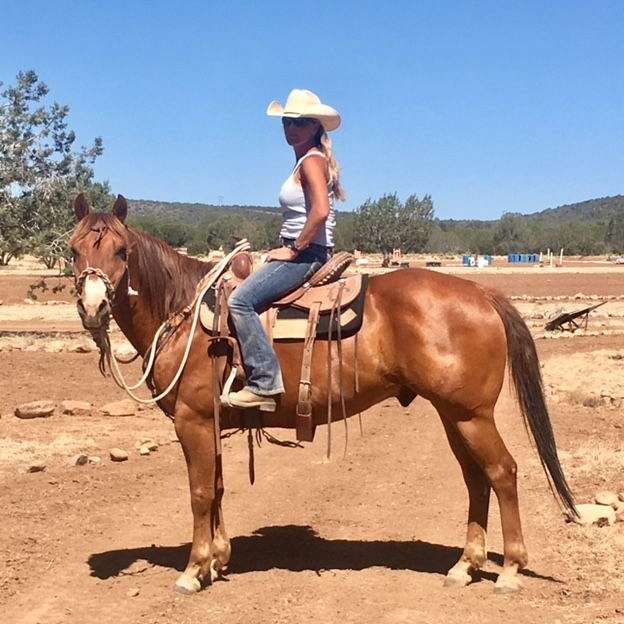 Sunset Ranch Performance Horses
We are a full service training and boarding facility located in Northern, Arizona. Owners Gary and Megan Bennett are 22 time world and national champion cowboy mounted shooters. The Bennett's specialize in desensitizing horses and producing quality dependable horses for all disciplines.