Additional Comments
This mare is the best of both worlds....wonderful trail horse, but could again be show-ready very easily. She's done 4-H classes and has been a great lesson horse for all ages. Quiet, calm, safe mare appropriate for beginners on the trail and advanced beginners in the show ring. Kacey, registered AQHA "Kissed By Cool". She's bay, 11 years old, and 15.2H. Check out her pedigree at http://www.allbreedpedigree.com/kissed+by+cool. She has the movement, conformation and attitude to win WSCA classes.... (read more)
Kacey has a gentle, willing personality. She loads easily, loves to be clipped, is good for the vet, stands great for trimming and is sound, healthy, and clean-legged. Besides being well-balanced and collected at all three gaits in the arena, she neck-reins, jogs and extends the trot, and will go out on the trail alone(with a little encouragement) or with a group. Doesn't hesitate at water crossings, and will stand quietly if you want to stop and relax along the trail. Kacey is very sound, healthy, and up to date on everything. Nice hooves that don't need shoeing, even on gravel. This is a beautiful, well-mannered mare. Kacey is only available because we are showing in Arabian classes. Call or email for more information. Sarah 507-340-7859.
UPDATE 10/24/13: I am offering Kacey for sale at half the last reduced price. She does have one glitch...a mild case of headshaker syndrome. We ride her with a net on her nose and then she's fine. A hoodie, like the head portion of a sleazy would probably work best. If pressure points on her nose are touched, she doesn't "twitch". If someone used a homeopathic remedy during the months that she deals with it, they'd have a heck of a horse. We think it's tree pollen that sets her off, so maybe in a different part of the state she wouldn't be affected. During the winter, she is completely normal. To a good home only...we really like this mare, but she's a Quarter horse, and we're into Arabs.
---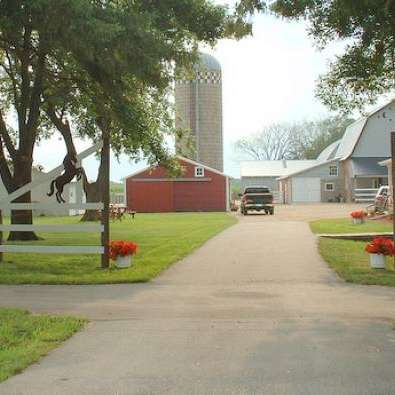 Fort Ridgely Equestrian Center
Our farm is located just north of Fort Ridgely State Park, in the scenic Minnesota River Valley. We offer full boarding, guided trail rides, lessons, and training.