Additional Comments
Time is sound and sensible and ready for a new job. This horse is gorgeous and ready to break necks everywhere he goes. Time has a huge stride that he loves to just get bigger and bigger. You will also loves his super naturally balanced canter. Time boasts pounds of spring in his gaits. He is so much fun to ride. An absolute dream to do anything with. Get noticed with this beautiful boy.
---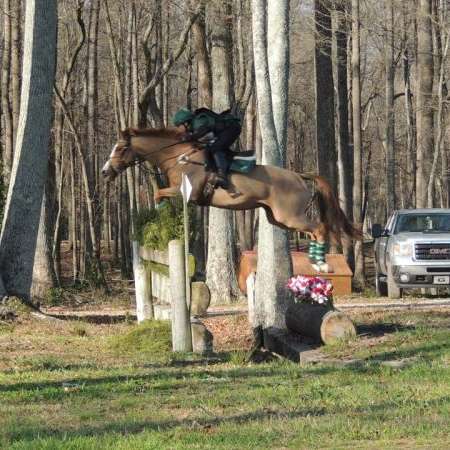 Sarah Davis Eventing
Three day event rider and trainer with over 15 years of experience. Sarah has trained with some of the top three day event riders in the industry such as Kim Severson, Phillip Dutton, and Stephen Bradley. She learned from a young age that her niche is with the Thoroughbred. Their sensitivity, extreme athleticism, and sheer will to perform has made every thoroughbred that she has ridden or trained an amazing experience.... (read more) It wasn't till she got more involved with the thoroughbred racing industry did she really get to know very intimately about the very beginning of the lives of so many of these wonderful creatures. The goal of SD Eventing is to give as many of these amazing horses a chance to complete college so to speak and learn a career other then racing. This way they can have a successful life after the racetrack. In addition to riding experience Sarah is also an A rated pony clubber and has a degree in Horse Management. She has managed and trained for several successful farms such as Hillbrooke Farm, Alex Schoepp International Horse Imports, Full Gallop Farm and is now partnered with Kenny Huffman Thoroughbred Racing. Sarah is currently training out of Palmetto Thoroughbred Training Facility. To keep her education going Sarah trains with top three day event trainer Simon Eades.