Additional Comments
This is sanest, most willing horse ever. He's VERY forward, but controllable and focused. NOT spooky and he loves getting out on the trail. He's a gentleman in a group, but also enjoys being out on the trail alone. He works through rough terrain and meets challenges with a "thinking" brain. :) Rides next to loud traffic without hesitation. If you like Arabians, this is a horse that will steal your heart. He would be the one to take out anytime, just for a really fun ride.... (read more) TF Khouros is also very showable and would do well in the arena without a tune up. He takes both leads on cue, works on both diagonals, neck-reins very well, jogs, extends the trot, collects his gaits, etc. He rides in a snaffle, curb, or hackamore. Great ground manners and loads, ties, bathes and clips easily. Khouros is in excellent condition and is up to date on coggins, vaccinations, deworming, and trimming, and does not need shoes. He is a flashy bay, 14.3H+, and even though his body and brain say he's 8, his papers say he's 19. I'd love to see this guy go to an endurance or show family, and will plan to compete with him myself until he's sold. I'm asking $1500 and could be somewhat negotiable to an exceptional home. 507-340-7859.
---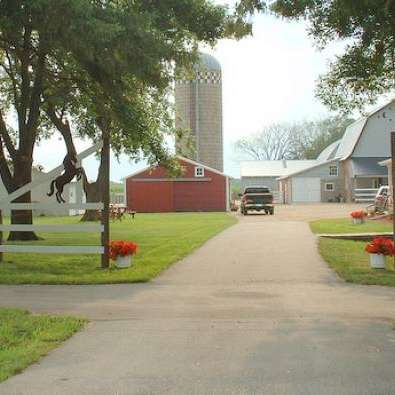 Fort Ridgely Equestrian Center
Our farm is located just north of Fort Ridgely State Park, in the scenic Minnesota River Valley. We offer full boarding, guided trail rides, lessons, and training.