Additional Comments
A full gallery of photos is at: http://proofs.sarahunderwood.com/luke/

Video of arena work: Watch Video

Video of trail work: Watch Video

Luke is a talented all-round horse suitable for a confident novice to intermediate rider, likely age 12+. His training has primarily been in english disciplines with a focus on dressage and jumping. Does 1st level dressage and jumps 2'6" courses with auto changes...... (read more) very uncomplicated to jump with his steady, point and shoot" personality and perfect form! Just went in his first cross-country jumping clinic and was perfect! He has been shown extensively in the past (last year he took home first place in ALL of his classes in the show I took him in -- English Pleasure, English Equitation, Hunter Under Saddle, Road Hack, and Western Pleasure -- the judge called him "flawless"!). He is hard to miss in the ring with his dappled coat and nice movement. He has also been trail ridden both english and western in the mountains, and participated in a gymkhana, where did well in all of the games.

Luke has a great move-off-the-hip walk, a soft and steady trot that is extremely easy to sit to, and a smooth canter (always picks up the correct lead and has auto changes). He has a beautiful overreach with some encouragement. He also has lovely transitions -- halt/walk to canter requires only a light touch, and downward transitions are balanced. It doesn't take leg to keep him going, but rather to maintain impulsion. He responds well to give-and-take action with the bit to gain collection. Leg yields, has a nice back up, and does turn on the haunches and forehand.

On the trail, Luke strides out well, and will ride out alone or in a group. He sometimes puts up a bit of a fuss for the first part of a ride if he is by himself (tries to turn around), but gives up quickly once he knows you mean business. He is quiet enough to be used for novice lessons in an arena, and has the heart to do more advanced things with an intermediate or higher level rider.

So, why is this wonderful horse for sale? The owners have three other horses and a new property to focus on, and don't have the time that he needs. Luke is for sale to a loving home where he will be ridden regularly and with a variety of tasks. I am his exercise rider, and he has been a pleasure to work with. He is easy to catch and has a calm, non-spooky temperament. He has been around dogs, tractors, and ridden on the road, so is good with vehicles. Excellent on the ground: stands quietly while tied, loves to be pampered, is great with his feet, and lunges well.

Luke should go to a home where he is kept with other horses in a larger area -- he is an easy keeper when he has companionship and room to move around. He is usually fairly low on the totem pole of dominance.

Located in Barriere, BC, 45 minutes north of Kamloops. Transport may be available. Please contact Sarah Underwood via replying to this ad or calling the phone number. If replying online, please leave your phone number too. I will reply to all inquiries, so check your junk mail in case my reply goes there.
---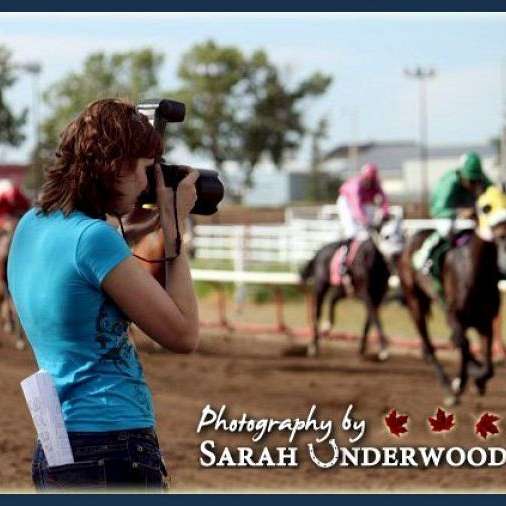 Photography by Sarah Underwood
Kamloops photographer specializing in equine photography, including horse and rider portraits, stallion promotion, sales, and shows.