Additional Comments
Tillie is a 11 year old, 15HH grey Molly Mule. Born in Michigan she was started by reining trainer Karen Gilbert. While in training with Karen she spent a month with Master Mule trainer Steve Edwards in Arizona, a short time training on a feed lot for exposure to cattle and did some trail riding. She was purchased and moved to Canada as a 5 year old. In Canada Tillie was shown once and has training for halter and showmanship. She won her walk trot class.... (read more) Tilly more recently had training in natural mulemanship with Master Mule trainer Brad Cameron and participated in a natural horsemanship clinic with Steve Rother. She then spent time in English training with National Judge and trainer Margo Hepner Hart in Oregon. Tillie will go English & Western. Tillie will wear a britchen and crouper. She will wear a crouper with an English or dressage saddle. She can also wear a FQH bar saddle and breastplate as you will see in her video. She is WONDERFUL to clip, yes, even her ears. She has been trailered allot. She is currently barefooted as she has feet like a rock but she has worn shoes in the past with no problems. Tillie has never been lame or sick and is an easy keeper. She has always been easy to catchand gets along with others in a pasture setting; she is not mareish at all. Tillie lopes easily and knows her leads. She has a beautiful big English trot and covers ground at a good pace when asked though she will do a quiet western jog trot as well. Tillie seems to have a soft spot for children. She is fine for worming, crossties, bathing and is good with fly sprays etc. Mules have a long life span (into 40's) so Tillie is still a very young mule. As hybrids mules are typically very healthy and hardy. Tilly's short show career was due to her owner's illness not the potential of the mule. After a few years as a pasture pet Tilly is into her second month with Arizona trainers Gary and Megan Bennett and now being offered for sale. For viewing questions please contact trainers Gary and Megan at 602-565-1514.
---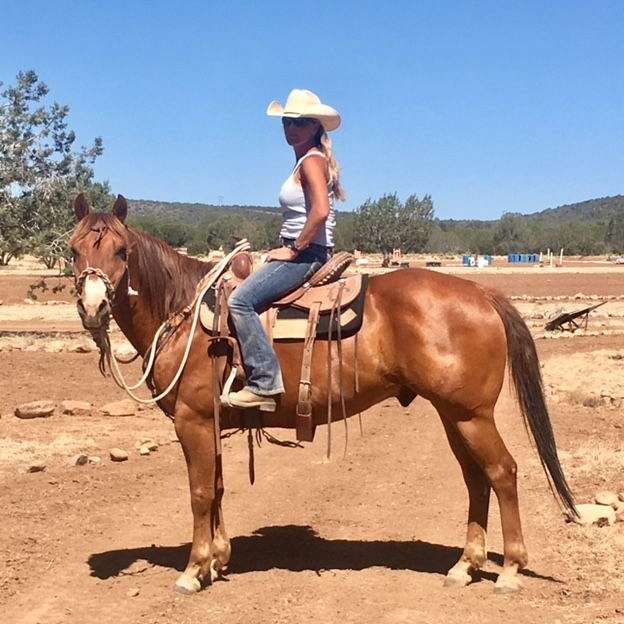 Sunset Ranch Performance Horses
We are a full service training and boarding facility located in Northern, Arizona. Owners Gary and Megan Bennett are 22 time world and national champion cowboy mounted shooters. The Bennett's specialize in desensitizing horses and producing quality dependable horses for all disciplines.