Additional Comments
What an awesome trail horse. We admired him for years and then was finally able to purchase him. He will go wherever you point his head. He is great to use to lead the crop of young horses as he never refuses an obtstacle. He is a great babysitter too! He is gentle enough that the grandkids can saddle him up and ride him away from camp without a fuss. Everyone in the neighborhood comes to borrow him as anyone can ride him. His ONLY fault is he does crib.... (read more) Healthy, fat good feet and can be ridden barefoot.
We never use the words "kid safe" as a horse is still a horse, but we let all our kids ride him with no worries!
Come take him for a test ride!!
We are located in NE Georgia, off I-85 at exit 149 an hour from Atlanta and 45 minutes South of Clemson SC getting off at exit 160.
Shipping Notes
Will ship
---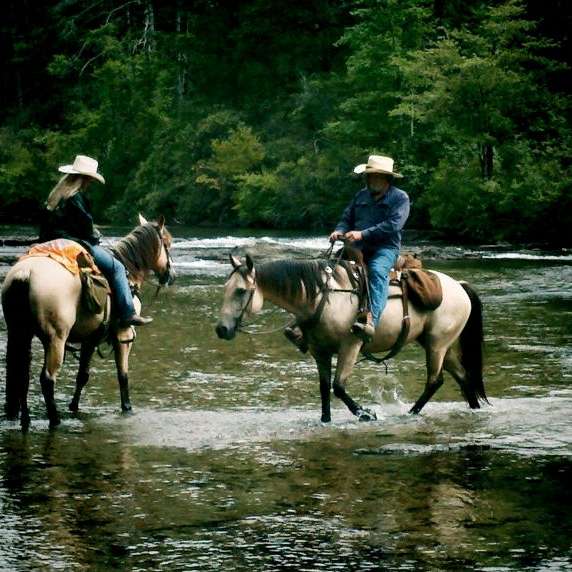 Circle S & J Ranch, Inc.
Circle S & J Ranch, Inc. is owned and operated by Steve and Jill Brown. We believe in breeding quality, athletic foundation horses to produce good minded, correct babies that are fun on a mountain trail ride, and competitive enough to win in the show pen. Our horses come from the foundation stock of the AQHA and APHA registries. The bloodlines we carry are heavy in cow and reining, such as King, Jackie Bee, Kid Meyers, Doc O Lena, Mr Gunsmoke and Great Pine.... (read more) All of our horses are eligible to be registered in all of the foundation registries. Our horses have been sold all over the United States and Canada, from Seattle to Virginia to the coast of South Florida. They have been ridden down the dusty trails of dude ranches to fire breaks on the Smoky Mountains. Some have been shown and competed in APHA, AQHA, NRCHA, NRHA, NFQHA and many local open shows. We always have a great selection to choose from, over 30 in all and we welcome visitors to our farm at any time. Circle S & J Ranch takes pride in raising healthy GOOD MINDED horses. Our broodmares are on a strict vaccination and deworming program, which in turn produces healthy foals. We use only the best name brand dewormers including ComboCare, EquiMax, Zimectrin Gold, Quest Plus and Safe-Guard. Every horse is vaccinated against EWT. When old enough, our horses are started PROFESSIONALLY by our NRHA trainer. First we use a Certified Master Equine Dentist to float their teeth to create a perfect bit seat. This insures that they never have a reason to raise their head in pain in response to the first time they receive the bit. All this expense insures that they come home very responsive to the bit, leg pressure with correct lead departures and excellent stop. Our NRHA trainer gives them an excellent foundation to build on so you can take them in any direction you choose, from the show pen to trails of our beautiful North Georgia Mountains. Each horse comes with a complete health record.