Additional Comments
**Price Reduced!!**
Pusher's Open Season, aka "Critter," is an extremely handsome, BIG tobiano/sabino SSHBEA registered stud colt foaled 04/04/2012. He is sired by Kelo's Ice Pusher, who is a Pusher/Generator bred TWH stallion, and out of a foundation (Tony W.) bred SSH mare. Critter's conformation is excellent - he has a sloped shoulder, rounded hindquarter with a strong hip, and a beautiful long neck. He is a picture to look at, and a big, strapping colt.... (read more) If he is this handsome now, imagine what he will look like as a mature horse.

Critter has been handled extensively on the ground, and will lead, tie, load, bathe, allow all four legs to be handled, and has been trained over the trail obstacle course. He will step up on a stump, cross a tarp, ground poles, walk over a teeter totter, and jump in hand. He also has show experience, having competed in the Colt in Hand Trail Obstacle class at SSHBEA Sport Horse. In the field, Critter exhibits a natural 4-beat saddle gait.

Since he is a tobiano/sabino, if he is left intact, Critter will produce color 100% of the time, even out of solid mares. Either the tobiano or sabino gene will be passed to each of his offspring.

Whether gelded or left a stallion, Critter is an exceptional colt with a ton of potential. Asking $900, no trades.
---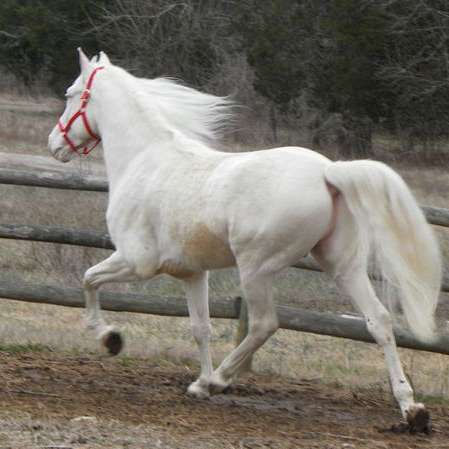 Heaven's Gait Ranch
We are a small family owned & operated farm located in middle Tennessee. We breed, raise, and sell quality Tennessee Walking and Spotted Saddle Horses suitable for show or pleasure. Every horse we offer is trained by us, from the ground up. We are proud to offer horses for every market, from unborn (in-utero) foals, to weanlings, yearlings, started and finished trail horses, and broodmares.