Additional Comments
ATTENTION TRAIL RIDERS LOOKING FOR A HORSE SHORT ENOUGH TO GET ON AND OFF OF YET STOUT ENOUGH TO CARRY ANY RIDER:
If an easy to mount/dismount, excellent ground manners, loving disposition, stout build, easy going Gelding whose favorite speed is WALK is what you are looking for then this is without a doubt THE RIGHT HORSE 4 U!!!! Bandito Buck Leo aka Leon is an 11 year old Bay Gelding who stands just 14.1 hands tall and is registered with the American Quarter Horse Association.... (read more) You can check out his 5 generation pedigree at allbreedpedigree! He is out of Sire THE PERPETRATOR (DOC PER X MAGNOLIAS COWGIRL) and Dam CK RUBY LEO (LEO B BUCK X LARIS PRONTA DUN). Very well bred and good looking horse! NO SPOOK, NO BUCK AND NO BAD HABITS!! Just watched someone fire a gun beside him and even that did not bother him! Pretty sure you could shoot one off of him without any worries! See no reason why he wouldn't be perfect for any age/experience level rider! One the whole family can ride and enjoy .... SAFELY! He would make a great Bull Dogging, Barrel Racing, Goat Tying, Break Away, Pole Bending or Roping horse with the right training but feel he is exactly what all you Trail Riders would describe to be an ideal Trail Riding Horse RIGHT NOW!!! He is short but wide and extremely quiet and laid back! Perfect age, size and of course, gender! Gets along great with other horses, catch him anywhere, easy to load/haul and no problem for farrier. He has never been to a trainer... has actually spent most of his life turned out with the broodmares living it up. So he doesn't neck rein real well but would with just a little work. He has a good stop, backs up (slowly!), and direct reins great! Stands perfectly still until asked to go, super easy to saddle and mount! Walking is his prefered speed however he will trot and lope when asked and is a smooth mover at a lope and trot, great head set and as honest as they come! He would love to be someones "SPECIAL" guy and once he finds that person you can expect him to give 110%! If he sounds like what you are searching for please give Stacy a call at 903-204-0767 or 903-667-4791. I am available anytime! Additional pictures and video will be available so call or email with requests! Asking $2500 and this price is negotiable so feel free to call and make me an offer!
Shipping Notes
Shipping available at buyers expense! Call or email for shipping quote!
---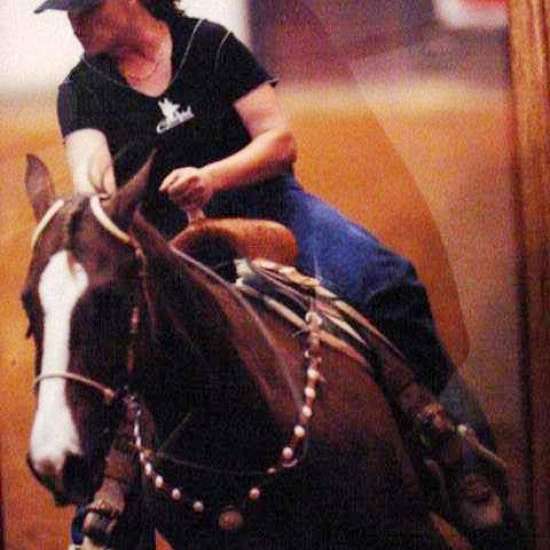 The Right Horse 4 U
I locate, buy, trade and sell a variety of Horses, Ponies, and Miniatures specializing in those that are Kid/Beginner SAFE and capable of making all of you or your little ones Horse Related Dreams Come True! I SELL HORSES "NOT" STORIES!!! I always have several to choose from. Call me anytime at 903-717-1823. Be sure and leave me a message with a number where you can be reached so I can call you back if I don't answer....... (read more) I WANT TO HELP YOU FIND EXACTLY WHAT YOU ARE LOOKING FOR!!! If I don't have the right horse 4 u, chances are I CAN FIND IT!! Located 2 1/2 hours East of Dallas off Interstate 30 in Omaha, Texas 75571 and available anytime!