Additional Comments
Due to family issues I am selling my seasoned rope and goat horse. 19 years old, bay gelding. Stands around 15.1 hands. He would make an awesome trail horse for someone if they do not want to compete off of him. I have given plenty of riding lessons on him with first time beginners and he was very calm and laid back. When he gets to a rodeo or show he knows his job and would not be fit for a beginner rider at a show. On the trails he would make an excellent horse for a beginner.... (read more) Although I have used him for lessons this past eight months he is still a great goat tying and break away horse. I have plenty of videos of me competing on him, just add me and go to my videos. I have qualified for International Finals Youth Rodeo in Shawnee, Oklahoma all through out my high school rodeo career, I was 2007 Champion goat tyer, 2009 All Around Cowgirl, and 2011 Champion Goat Tyer off of this horse. I have heeled off of him before with ease. Will sell to an approved home only. Give me your best offer.
---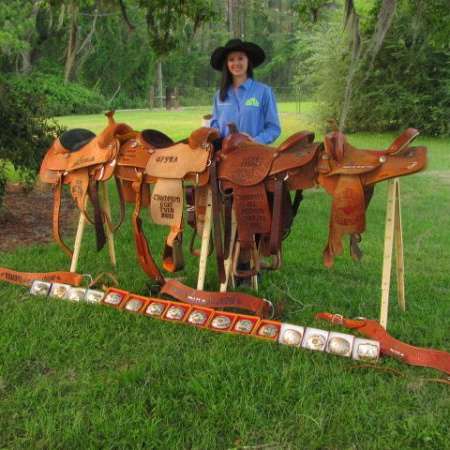 Vam Riding Lessons Horse Training
Do you want to learn to ride and care for a horse or just brush up your skills and become a better horseman? Or would you like to learn different events and eventually compete in rodeos? Hi, my name is Vicky Merriman. If you answered yes to any of these questions you have come to the right place. I am offering my services in a wide variety of areas that deal with horses. --Horseback Riding Lessons For Ages 6 & Up-Learn the basic care and responsibilities of owning a horse, and the basics of horseback riding.... (read more) --Rodeo Lessons-Take your riding skills to a whole new level and learn how to do the different speed events and train to compete in real rodeos --Horse Training-If you have a horse with ANY kind of bad habit, whether it be trailer loading, kicking and biting, or an untrained horse, bring them to me and we can solve the problem(s). --Horse Breaking-If you have a horse that you want to be broke to ride send them on over for a period of 45 days and by the time you get you horse back you will have a safe and willing partner. With a peaceful 55 acre farm, a 180'x100' arena, and miles of dirt roads to ride this is the ideal place to learn, ride, and train. If this sounds like what you are looking for, please feel free to look around and contact me if you have any questions.