Additional Comments
2012 Grulla/Smokey Black/Chocolate Colt born on May 16, 2012. His pedigree includes Hollywood At Dawn (Hollywood Bill), Pablo San, Benito San on the papers. Just off his papers he goes back to King many times, Hollywood Gold, Poco Tivio, Peppy San, Poco Tivio, Tripolay Bar and many more. He is weaned, halter broke, stands tied great(nice a quiet), good with his feet, and can be touched all over. Here is a link to his pedigree http://www.allbreedpedigree.... (read more) com/hollywood+king+poco. He is a sweet colt, is weaned, eating hay and grain good. Price Reduced to $1500 OBO - Make an offer! You never know what I might trade for or come down to. Hay is definately needed for my rescue program!
http://www.facebook.com/#!/crookedk.ranch http://www.facebook.com/media/set/?set=a.203778516409772.45056.100003328764451&type=3

Unfortunately I may be having to move to a smaller property and so I am having to reduce my herd. Listed below are the horses that I have available for sale/trade. Here are some items that I am willing to trade for: a car that is good on gas, tractor, hay, flatbed gooseneck trailer, camper, 4 horse goo...seneck, or one very broke horse. Listed below are the horses that I have available for sale/trade. Located in Prague, OK.

I also have these horses available for sale/trade:

- May 22, 2010 solid breeding stock, chestnut gelding. 14-14.1 hh. He is grade but can be registered. Here is his pedigree: http://www.allbreedpedigree.com/spartican+playboy He is a sweet boy, no kick, buck, bite, rare. His very first ride saddled and he kind of just rode off. He has been ridden twice under saddle and about 5 times bareback with just a halter and lead rope. I think he will make a phenominal kids horse, playday, or roping horse. He can be a bit stubborn at times, he inherited the bad habit of pulling back when tied. I know it can be corrected but I just don't have time to work with him. Asking $500.

- Coming 3 y/o bay filly. She is a sweet horse with a lot of potential. I was told that she has been saddled, sat on, and led around by the previous owner. She is pony size (maybe 13.2 or 13.3) and I was going to start her as a kids horse. $200

Located in Prague, OK. Call/text Klarissa 605-484-5584 If you are interested. Pictures of the horses are on my Facebook page "Crooked K" under the album "Currently For Sale"


---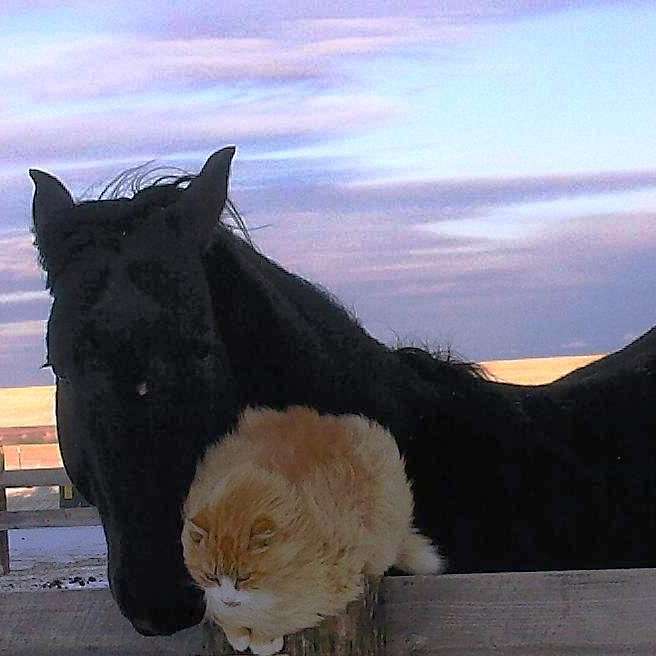 Crooked K Ranch
Home of Hollywood Joe King