Additional Comments
Maverick is a 3 year old black and white Spotted Draft standing at about 16.3hh and still growing. He was gelded a few months ago so he is very stocky but he was never bred. Doesn't have an ounce of studiness in him. He has an excellent personality and gets along great alone or in a herd setting. He is the low man in the pasture. I had rode him last fall and early this spring. The first time he ever had a saddle on he let me get on him with no buck, rear or bolt.... (read more) After riding him 4-5 times I found out I was expecting and decided to stay off him as he is green. Now that the baby is born I've come to the sad realization that I have no time to finish him so I had him sent away for 30 days professional training. He did excellent and the trainer was very pleased with his eagerness to learn and the accomplishments she made with him. Now that he's home we have decided to sell him due to the fact that I really just have no time to continue his training. I've led him on the road almost daily and through town to the ice cream shop and he does excellent with traffic. Not a spooky horse by any means. Trailers, ties, leads great. He has so much potential in the hands of someone who has the time for him. Asking price is 1500$. I will send more pics upon request! Thanks for your time!
Shipping Notes
We can deliver for an extra fee.
---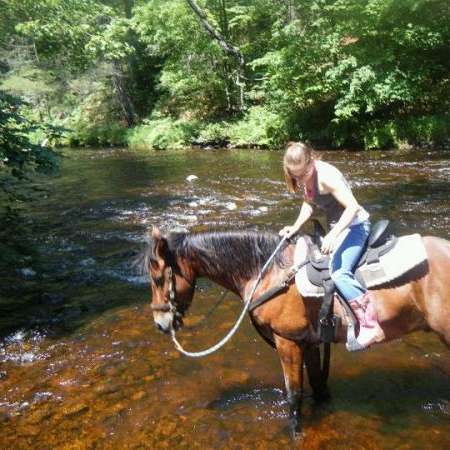 Lyndaker's Horse Haven
***due to the arrival of a new baby in the family our training and trail rides have been very limited this past summer. Also, we had an unfortunate mix up in phone numbers and email addresses that we just were made aware of. Sorry for any inconveniences it has caused for any potential clients! *** Our small privately owned barn is located in Upstate, NY. Founded in 1997, we specialize in rescuing and creating beginner safe "bombproof" trail horses.... (read more) We also occasionally have room for a couple boarders in a full care environment at a reasonable price and will work with "problem horses" on a month to month basis when needed.