Additional Comments
Cute and easy OTTB named Benthinkinboutit--"Charlie." 6 years old, 16+ hh, bay with star. Good feet, good weight, easy going attitude, on full turn out. Off the track nearly two years and is progressing amazingly fast, you would not know he was an ex race horse but for his athletic ability.

Nice easy tempo, respectful of the snaffle bit and slows nicely. Carries himself well, bending, responds to leg, leg yields, starting to stretch.... (read more) Lovely well balanced canter, good at leads, flying changes. Not jumpy or spooky. No problems with ground poles, cavelletti, etc. Well started over fences and doesn't rush, stays straight and steady, getting leads nicely afterwards. Has been brave over a variety of small jumps and combinations, 3 foot is easy! Calm and quiet, clips and easy to work around. Really nicely balanced all around--mentally and physically! Good on trail rides, easy, steady and calm. going through water. Can get up and go, or long rein and relaxed. Ready to show this spring, an excellent prospect now!! Vet owned and selected off the track, was originally asking $8,500 for Charlie, I just lowered the price.

Competed at three mini events. He won his first ever Beginner Novice class by his dressage score. Was 2nd and 3rd at the other shows. He was awesome to ride!! Obedient and calm and flexible in dressage, brave, willing, eager and clean for the jumping. Has never stopped to date. What a fun horse! Make an offer on your next best friend!

Currently schooling Novice questions, banks, combinations, increased height, etc.

Most recent dressage test, July 5th: Watch Charlie/Benthinkinboutit--BN Dressage at Haywire, July 5, 2014

Another Jumping video: Watch Haywire n Summer 197-udWdsp55VyySWtFL1A

Please contact me through this website or my email at razzle_dazzle5@hotmail.com as the facebook comments do not come through. Thank you.

There are also many other horses for sale... many TBs, Quarter horeses, cute ponies and draft crosses of various ages, sizes, colors, training and prices, from $2k-10,000. Sound and safe, no buck, no rear, no bolt, some greener than others but off to the right start. MOST of them have no vices, going calmly on trails with or without company, good basic flatwork. ranging from fancy prospects started over fences to steady fun guys with show experience in dressage and jumpers, some already winning! Some of them have foxhunting experience and are very reliable in the field. Please inquire for more photos, flatwork and jumping videos.

ALL up to date on coggins, shots, worming, trimming/shoeing.

Motivated sellers who will negotiate on price to good homes.
Shipping Notes
could ship
---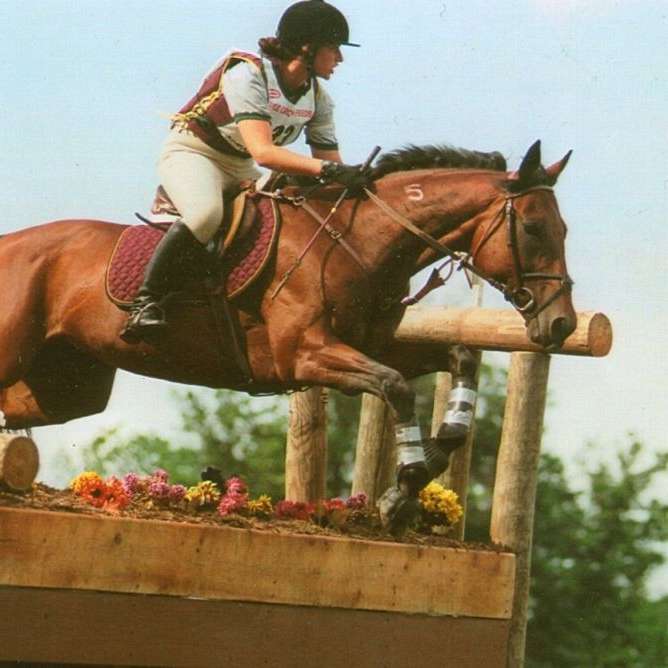 Ruth Swanson Equine
Horse training in the Northwest Corner of Illinois. Buying, selling, retraining, connecting, networking and off the track 'relocating.' Lessons available to all levels and interests, indoor and outdoor arenas, hundreds of miles to trail ride in the rolling hills of Jo Daviess County. Specializing in Eventing, Dressage, Hunter/Jumper, Foxhunting, Pony Club, trail and Western and Natural Horsemanship Basics.... (read more) 25 plus years experience with horses, Bachelor of Science in Facility Management and Teaching and Training from Lake Erie College. Boarding with Training also available.