Additional Comments
SOLD. Thank you Kim & Raymond Cooper!!"Red Girl" was bred & raised by McCullough Quarter Horses. Her sire was a heading horse. Her dam is Rare Jet Hancock. Pedigree is on www.allbreedpedigree.com. New pic. UTD on everything. She is only being sold because we sold our stallion. Red Girl is very easy to catch, load, stands for vet and farrier. Big mare. Has always thrown gray or roan for us. She is branded on her left hip. She has exc. conformation and disposition and passes this on to her babies.... (read more) She has Two Eyed Jack and Beau Bonanza on her papers. She is in foal to our blue roan/gray stallion Galla Creek 501- Jackie Bee & Two Eyed Jack bred for a February baby. All ppaerwork in order. These colts that she has produced are riding well with great minds. Good home a must. More pics available. email: haywire1968@ymail.com or call 870-344-1569. Price is firm.
---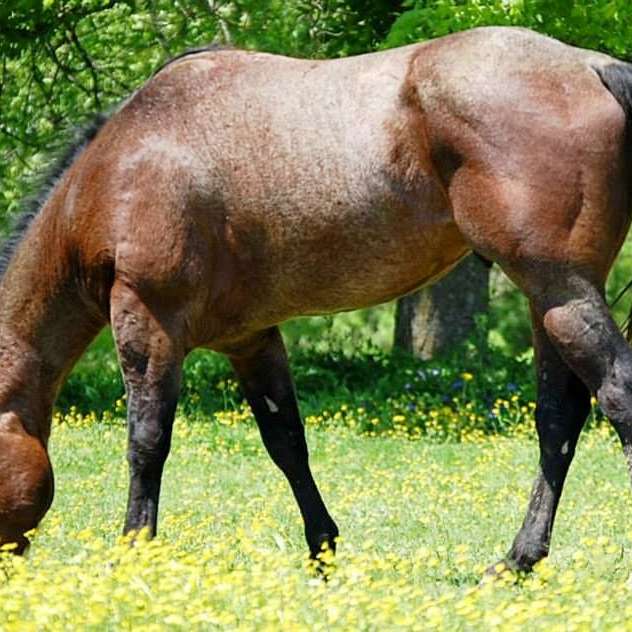 Cedar Ridge Farms Foundation Quarter Horses
We are located in South East Arkansas about 25 miles SE of Stuttgart(Rice & Duck Capital of the World). We currently stand two AQHA stallions to the public. The sire of most of our colts that we have for sale is Hawkeye, who is pictured. He has been DNAed and is Perlino. 5 panel tested. His pedigree is on www.allbreedpedigree.com and we also have his information on our face book page. His reg.... (read more) name is DOCS BLUE ID BANDIDO. We have babies in Oklahoma, Mississippi, Alabama, Louisiana, Kansas, Missouri, West Virginia, Tennessee, and Texas. Our other stallion is TOO CHEXY FOR MY SOX, aka Man. Talk about dog gentle. He sires babies with the kindest dispositions and lots of bone and substance. He is over 16 hands and 1300lbs. He comes from the bloodlines of the Pitzer and Haythorn ranches and throws really nice, well made babies. Man is a Bay Roan. His pedigree is also on www.allbreedpedigree.com. We do have another APHA stallion, Elkdogs Sky Dancer. On limited mares, he has produced 100%Toveros and Tobianos with loud color and excellent conformation. Dancer was tested homozygous for the Tobiano gene and is lethal white negative. He is also homozygous for the black gene, so no red babies. He has stunning blue eyes and with his true jet black color, he really stands out! Dancer is currently in Star City, but can arrange live cover with him. We do have a breeding contract if you will call or email. Our 2016 breeding fees are $300 and include a $150 booking fee. Live cover only at this time. We strive to raise all around performance horses based on the legends of the past, but breeding for the future. We add the color as the icing on the cake! We breed for conformation, disposition, and solid athletic ability. We hope that you will see this in our foals that we have for sale. We welcome all questions and enjoy visitors, too! Please check out Cedar Ridge Farms(foundation quarter horses) on Facebook!