Additional Comments
His racing name is Brother Kris, he has AP indy and Unbridled in his lineage, both producers of excellent sport horses. He raced 11 times, winning 2 of his earlier races and just becoming non competitive.

He has had a month or so off from the track and has been on one trail ride with his race owners after his last race and has been lightly started for dressage and jumping.

He is VERY easy going, will learn quickly and should be able to start showing the small stuff pretty soon.... (read more)

He is 17h. He is very leggy and stunning to look at. He has a snip and 3 white socks, very dappled with a dark mane and tail. He turned 5 in April and doesn't really show much youngster like attitude. He is cuddly and personable, likes attention and low on the totem pole in the herd. He can be turned out with mares and geldings, does not care, he will get picked on if he is put out with aggressive horses, he does not fight back. Can be stabled, no bad habits, clean horse, well mannered. Barefoot and sound, although his feet are new to the barefoot thing, he is a little sensitive on rocks. Can be shod again, but I do like to give them a break after their racing careers.
---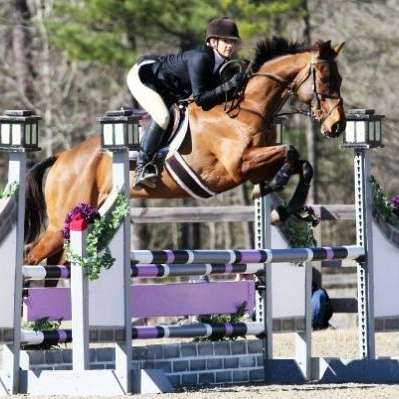 Second Chance Thoroughbreds
eventing and dressage training facility specializing in retraining thoroughbreds from the track to new show careers. Our Thoroughbreds are hand picked for their potential in new eventing, dressage, and h/j careers. Many have never raced, and none have retired due to injury!