Additional Comments
Sadly we must part with some of our horses as it doesn't look good for rain or hay prices here...
Twister is a 7 year old registered AQHA mare. She is 16 hands tall and a total beauty. She came to us in Decmeber 2011, along with 3 other horses. She was a 3 body score. She has put on a lot of weight and looking better. Twister is a "been there done that got thrown in the pasture" kinda mare. She is easy to catch, load, flay spray, handle, anything out in the field.... (read more) Now she does pace in the round pen. She stands tied if tied, and would be a great at doing anything. I would LOVE to keep this mare but she is going to waste out in the field.. This mare I had HUGE plans for by life got in the way. I promise you will not be unhappy if you buy this girl and do some training with her. She would be great at anything! This girl is a huge sweet heart. She loves to be loved on! I have her papers in hand and they will sell with her. She needs a bit of refreshing before you throw a kid on her! I got on her today and she saddled perfect, flexed both ways. Touched her nose to my boot. she backs easily. She will only ride forward if a horse/person is leading. She needs some more training for her confidence, so she can ride on her own. NOW I got on her, and flopped around on both sides, stood in the saddle, jumped on and off her, stood on her butt, and swung a rope all around her. The whole time she didn't even blink. Haha.
Her pedigree:http://www.allbreedpedigree.com/mightyflamintwister
She has tons of speed, and some great blood in her. Asking $1,000. Feel free to make me an offer, but I will not just give her away. She is too good a horse.
SHE IS POSSIBLY BRED BY MY PALLOMINO PINTALOOSA. She was with him for part of her season, but we never saw a breeding. Will have her feet trimmed and be wormed before leaving.
Call(leave voicemail)/Text(fastest)/"‹Email:
405-687-0469 Located in Cogar, OK
!!!!!I WILL TAKE PAYMENTS BUT HORSES WILL STAY HERE UNTILL FULLY PAID OFF!!!!!

Shipping Notes
Must pick up or pay for delivery.
---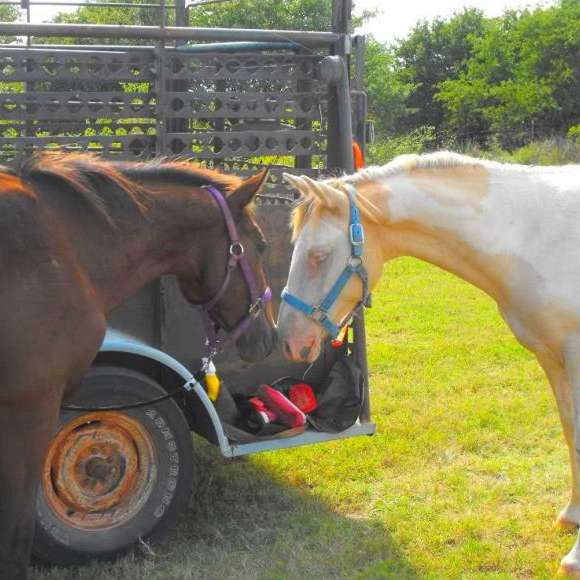 Flame'spleasure