Additional Comments
She's a very pretty mare. Black Roan, four whites, lots of hair. She's also very sweet. has really pretty movement and would be gorgeous in hitch or under saddle. I don't believe her owners did any training with her. She's a clean slate, ready for a job. She's not a giant mare. I haven't measured her but I'm guessing she's around 17. There's so many ways you could take this mare. From riding and driving to breeding.. No chewing or cribbing. Not sure how she stands for the farrier. At $3,000 and registered, I'm sure she won't last long.
---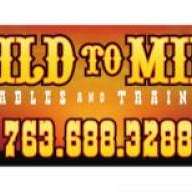 Wild to Mild Stables & Farrier
Wild to Mild Stables and Training is located in Faribault, Minnesota where it is owned and operated by professional horse trainer, AJ Karsky. At the age of 28, AJ has been training horses for Eight (9) years and has spent most of his life in the saddle. Wild to Mild Stables and Training offers a variety of horse services such as breaking, cutting, roping, and penning for $525 per month. Riding lessons are also available for $30 per hour if the rider has their own horse and $35 per hour if the instructor is providing the horse.