Additional Comments
Walker is the nicest gaited horse I have ever owned. Fantastic ground manners, fantastic ride. Gentle enough for all. He has a nice flat walk the my Quarter Horse friends like - but when I move him to his slow gait they have to trot to keep up and when we go the his fast gait they have to lope..... needless to say we mostly walk when we ride with Quarter Horses. 100% sound and sane. Bathes, clips, shoes, & trailers like a horse with manners should.... (read more) His body color is unique with red, white and blue hair making up his color with a big white strip and 4 white legs pass the knees he is an eye catcher and only 10 years old. Short enough for people with bad hips or knees to get on and off of and smooth smooth smooth to ride. We finally got a video made of him here is the link - Watch Walker Video hope u like it!

Shipping Notes
Can deliver locally - over 50 miles - $1.50 per mile 1 way.
---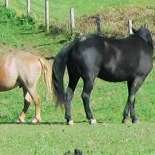 Donna's Ponies
We buy and sell good quality, well broke family horses and ponies.