Additional Comments
LOOKING FOR SOMEONE WHO IS IN THE MARKET FOR A SURE ENOUGH BOMBPROOF BABYSITTER FOR THEM OR THEIR KIDS!!! KNOWLEDGE, OR ACCESS TO SOMEONE WITH KNOWLEDGE, ON CARING FOR A HORSE THAT HAS FOUNDERED A MUST!!!!

*************************
IMA LUCKY VALENTINE is a 14.3 hand tall, 16 year old Sorrel Overo Paint Mare registered with the American Paint Horse Association out of Sire: LUCKENBACH (PAINTED LASAN X ROJO REED) and Dam: BALMY MAC EASTER (JIMBO DEL VALLE X CABARET).... (read more) You can check out her 5 generation pedigree at allbreedpedigree.com by typing her name in the query box located in the upper left hand corner of the site page. IMA LUCKY VALENTINE has over $3000 in training and is the most laid back, easy going and calm BARREL HORSE around!! She has an outstanding handle and the best ground manners imaginable! Would be perfect for any age and/or experience level rider and she has all the capabilities of making ALL of any riders HORSE RELATED DREAMS come true .... SAFELY!!! ****HOWEVER**** there is one set back, She was turned out to pasture the first of Spring, put on 300lbs way to quick and ended up Foundered! This Mare has not been passed around...she was out of previous owners childhood barrel horse and that was the only owner she has had until us. Previous owner was forced to give up riding several years ago, she owned this Mare and a Gelding, both were turned out to pasture all this time until she recently went through a divorce and had to move them to her parents place (this was shortly after the mare foundered). She decided that it was not fair to them to be forced to go without any and everything they needed and she knew she would no longer be able to provide for them so we bought them from her. I promised her I would do everything imaginable to see to it this Mare would go to someone who would have the knowledge neccessary to rehabilitate her. I would LOVE to be able to afford to keep her! I've ridden her once and fell in love! There is no doubt in my mind that ANYONE no matter how young or old can ride her and look like a professional! She is OUTSTANDING! LOVES KIDS!!! Responds to even a small childs touch!!! She has not been on the barrels in about 8 years or so but was said to be an occassional 2D and consistent 3D horse when pushed but would also slow lope, trot or walk the pattern with no problem. No alley issues, no bad habits, and calm and cool as a cucumber! This mare loves to be ridden and loved to be hauled to events! PERFECT FOR A BEGINNER TO LEARN HOW TO BARREL RACE ON AND ONCE SHE IS SOUND SHE WILL ALSO BE THE HORSE THAT WILL TAKE THEM AS FAR AS THEY WANT TO GO! This is a $6500 horse that can be bought for ONLY $1500!!!! The man who told me about this Mare and Gelding being for sale is the Farrier who trimmed the mare the first time after she foundered....he said that he feels certain she can get over it, said 1st and most important she would need to loose atleast 300lbs, once she looses the weight he felt shoes on all four feet (was unsure of type of shoe that would benefit her most at this point) would have her back good as new. I personally do not know much about foundered horses but I have read enough to know that there are alot of you out there who do and in the right hands, this mare will again be a $6500 horse! She is precious and absolutely gorgeous and if she is given the chance to safely care for you or especially your little one then she will be PRICELESS!!! I understand there are alot of horses out there and I realize that the care she will require will not be free, but I also know that a horse with her training and experience that is also good looking with a Beginner and KID SAFE disposition and all around ability is expensive....alot more than what having a horse that will for the most part ONLY require Hay and water, put up off of grass, feet trimmed every 3-4 weeks by a farrier knowledgeable on dealing with the foundered horse, and a few extras here and there. Pretty sure when all is said and done you will come out alot cheaper with this mare than by buying one not likely to be 1/2 the beginner safe kid horse this one is! Asking price is $1500, which is about what my money man paid for her HOWEVER I am very fond of this mare and do not want to see her end up some place she does not deserve to go so I am open to offers and if I can afford to pay the money man the difference out of my pocket and know she will be going to a home where she will be loved and cared for and everything neccessary to get her sound will be done, then that is what I will do (I can not afford a whole lot since even though I seldom mention it in my ads, I spend ALOT of money on a daily basis to see to it that EVERY horse that leaves my place is happy and healthy....and I have several pass through here!!). If you think she could be THE RIGHT HORSE 4 U then PLEASE give me a call and lets talk! You can reach me at 903-204-0767 or 903-667-4791 to schedule an appointment or if you have questions. I am available anytime and even more than usual....I LOOK FORWARD TO HEARING FROM YOU!!! This will be one of those good deeds that will pay you back in more ways than one!!! What do we call that??? OH YEAH, A "WIN/WIN" SITUATION!!!
Shipping Notes
Shipping available at buyers expense! Call or email for shipping quote!
---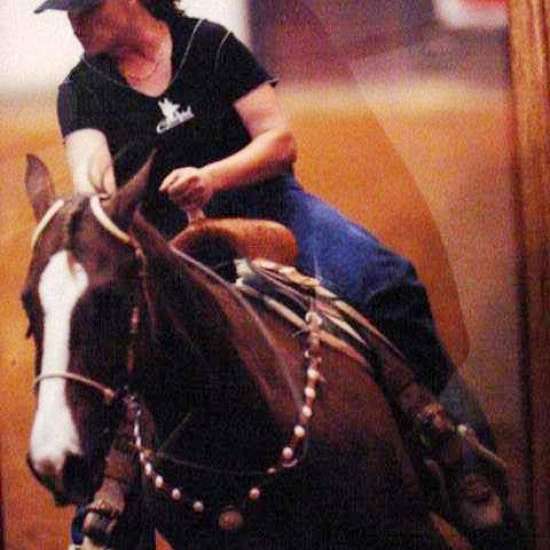 The Right Horse 4 U
I locate, buy, trade and sell a variety of Horses, Ponies, and Miniatures specializing in those that are Kid/Beginner SAFE and capable of making all of you or your little ones Horse Related Dreams Come True! I SELL HORSES "NOT" STORIES!!! I always have several to choose from. Call me anytime at 903-717-1823. Be sure and leave me a message with a number where you can be reached so I can call you back if I don't answer....... (read more) I WANT TO HELP YOU FIND EXACTLY WHAT YOU ARE LOOKING FOR!!! If I don't have the right horse 4 u, chances are I CAN FIND IT!! Located 2 1/2 hours East of Dallas off Interstate 30 in Omaha, Texas 75571 and available anytime!