Additional Comments
Handsome black gelding with looks, style and class. Blues Man is a beautiful black gelding with a long mane and forelock. He has big dark eyes and is breathtaking to watch. Blues Man is a horse that is very easy to ride. He has an easy going personality and is gentle to handle on the ground and in the saddle. He is a horse that loves to be around people and will follow you wherever you go. Blues Man is very smooth to ride and set in his gait. He is wonderful in every way.... (read more) Blues Man has super smooth gaits slow or fast and is like riding on a cloud. Blues Man is very cooperative and wants to please his rider. He will do what he is asked and has never acted silly or spooky for us. He stands to mount, walks out on a loose rein, gaits on a loose rein, listens to leg and verbal cues, backs up, goes out great alone or in a group, loads/unloads easily and trailers like a pro. There isn't much this horse won't do. He is easy to catch, halter, lead, groom, bathe, clip, tack up, worm, gets along great with other horses... He has been a trail horse his entire life and shines when he is out exploring trails. Blues Man will cross water, climb steep hills and carefully maneuver his way down. He is very sure footed and does not miss a step. He leads, follows and is great to ride day or night on the trail. He is a seasoned trail horse and a wonderful companion on the trail.There are very few horses that can perform like he does! He has been exposed to traffic, bikes, dogs, plastic bags, deer, turkeys, cows, farm animals, ATV's... He has a sensible mind and a willing attitude. A beautiful horse on the inside and out. Blues Man is a horse that husbands, wives, families and beginners will enjoy as well as intermediate riders. He is versatile fun and enjoyable to be around. Come on and meet this great horse for yourself!

Shipping Notes
We can help arrange shipping.
---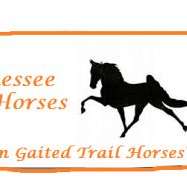 Tennessee Trail Horses
Tennessee Trail Horse is a family owned and operated sales facility for naturally gaited trail horses. We are honest hardworking, Godly people who love to ride horses. Our purpose is to match riders with their perfect horse. We are located in southern middle Tennessee right in the middle of Tennessee Walking horse country. We specialize in offering only the very finest of gaited horses and matching the ideal horse to the needs and wants of each individual rider or buyer.... (read more) All of the horses we offer for sale are very calm and gentle. They all have lots of trail experience as well as loading, clipping, bathing and shoeing experiences. All of our horses are dependable, reliable, surefooted as well as great tempered.They're all sound and healthy as well as up to date on all shots and vaccinations. We don't want to just sell you a horse. We want to sell you a companion and life-long friend.