Additional Comments
Lucky is a very nice well mannered mare. I have her temerament set at 4 because she is a little hot when you ride her (ready to go), she is not a kids horse unless the kid is an advanced rider. I have retired her from riding and just use her for breeding mainly, but she is still broke. She is in foal this year to our paint stallion Shamans Pacific boy, and should be foaling out here within the next month.
She has raised some of our best foals, and we have always had tons of interest in them.... (read more) I have gotten one saddle winner for barrel racing off of her, and a very good all-around horse that we lost, the other will be a yearling this year. I have just raised 3 foals off of this mare but all of them were our best colts. They are super easy to break, and very fast learners.
I have used this mare for pretty much everything: 4-H, parade, Barrels, Poles, Flags, Roping, cattle driving, she has been rode in town, through ponds, you name it she has probably done it! She has won 2 saddles for barrels, and multiple buckles in both barrels and poles with limited running, she has qualified for the Kansas State Fair also.
The third photo is of a filly we raised off of her, she won a saddle her first year running open barrels, and came in second in the next division, recieving a buckle!
The 4th photo is of a stud colt that we kept off of her, our trainers loved this colt and made several offers on him.
5th photo is of her 2011 colt.
---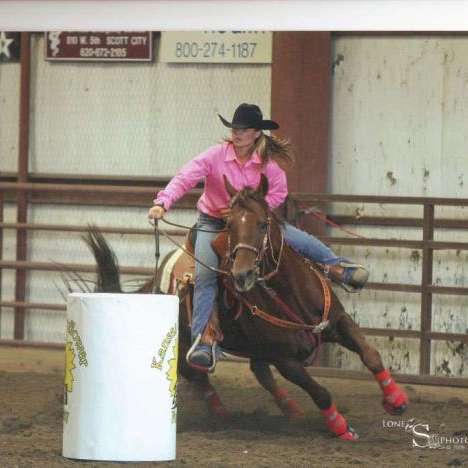 Jm Horse and Cattle
Producing quality horses with great conformation, at reasonable prices, that can go any direction! Offering 3 stallions for stud service soon, along many mares and foals!