Additional Comments
Dixie, aka "Red" is a beautiful 2 yr. old QH filly. Great-granddaughter of the great Peppy San Badger. Very laid back, smart, easy to train. Already 14.3 hands & she still has alot of growing & filling out to do. She has a solid muscular foundation. I took this filly in from a friend a little over a year ago because the stallion owner dropped out of sight without signing her papers. I have tried for over a year to track him down & even went to AQHA for help.... (read more) Seems they are unable or unwilling to help. Guess their database isn't as thorough as that of APHA. So unfortunately this filly sells as grade. If you are wanting a quality horse without the price tag that goes along with it, here's your opportunity. Great horse to trail ride or show in unrated shows. She's a definite bargain. Afterall, you can't ride the papers. I usually don't recommend young horses for young people but this filly would be an excellent 4-H project for a teen who has horse experience & access to some training mentor. She halters, leads, picks up feet, easy to deworm & vaccinate, loves to be groomed! If she had papers, she's sell for 4 times what I'm asking. Her price is in no way a reflection on her quality. She has been started with a bareback pad & takes it all in stride.
Shipping Notes
Buyer is responsible for all shipping costs including any health papers. Seller can help arrange shipping & does do some delivery depending upon location. Horse shall be paid in full before leaving the ranch.
---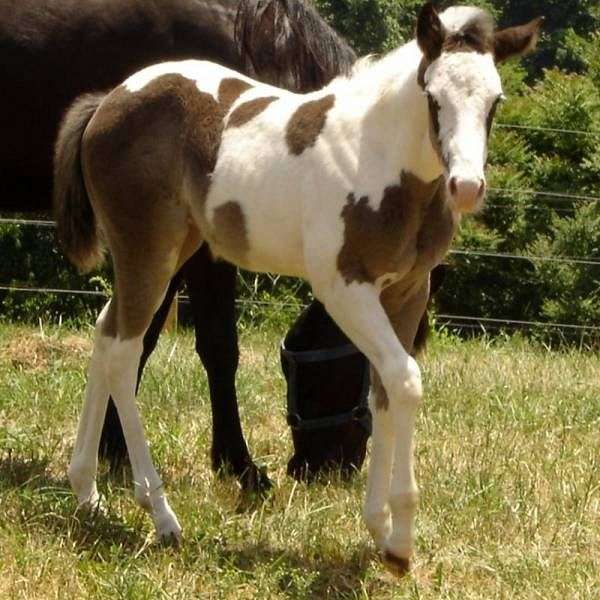 Circle T Ranch
Breeders of quality champion bred paint & quarter horses. We specialize in homozygous tobiano, black & white, dilute, & dun performance horses with versatility.