Additional Comments
If your looking for BOMBPROOF this is your horse. Look no futher. I would keep this feller if he were gaited thats the only reason we are getting rid of him but we aren't giving him away & a good home is a must. Would consider trading for a horse as bombproof as him but gaited ssh smooth.

You can run & jump on this horse from the back, ride him backwards, dog walk all day long, double or triple on him..he is not going to spook or act up.... (read more) He is the perfect baby sitter.

He is handsome sorrel & white paint stands about 14.2 stocky built he is 12 yrs old.. his favorite gait is the dog walk but if someone who really is going to kick him into it gets on him & kicks him he will rot & lope very smooth. A kid & well my toddler cant really get him to go no matter how much they kick..he is smart & he knows when a kid is on him he will only dogwalk & likes to follow someone walking. We have a riding arena & he just goes round & round it with little girls with them all stacked on him 3 at a time.


---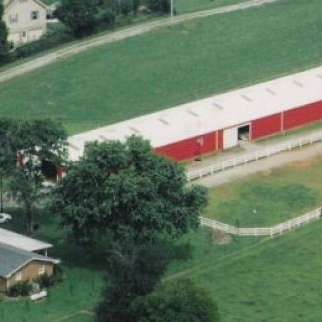 Blue Spring Stables
Our barn is located in Decherd, Tn. Trainer Brian Wainwright. We invite you to join our gang, horses are a hobby and a luxery you can relax while we do the work. Horses keep familys bonded by being such a fun hobby theres something for everyone to do, whether thats ride, show, cheer from the stands or etc. We break, train, sale, board, breed, trail ride, teach riding lessons and show horses and will take the best of care of your animal if it is in our barn.... (read more) Your welcome to come by as much as you want! We will give a deal on multiple horses. Brian has proven himself in the show ring and put many in the winners circle from kids to the older building confidence up & self esteem. We love juvenile riders! Brian has won 2 yr old and or 3 yr old for the past several years. So bring us your horse so he can put you in the winners circle too! You win some and lose some...its all fun and good sportsmanship.