Additional Comments
Battle's Push Up is a unique 1998 model mare who has it all - color, bloodlines, and a proven production record. She stands 15.1hh and has excellent conformation, as well as striking color. "Betty" has 4 white stockings and a mixed tail - she is an unusual minimal tobiano. She does carry the tobiano gene as evidenced by her ability to produce tested homozygous tobiano offspring.
Betty's bloodlines are exceptional. She is a granddaughter of the legendary Battle Colors, with other names such as WGC Ebony Masterpiece (x2), WGC The Pusher, WGC GLL's Carbon Copy, WGC Ebony's Senator, Bob's Beaucoup Boy, Mack K's Big Story and The Push Is On!... (read more) gracing her papers.

Betty is a great mother, easy to handle and produces beautiful, well-gaited foals. There is not much more you could ask for in a broodmare!

Currently Betty is bred to General Hector, and is selling with a LSFG to Hector. If you do not get a live spotted foal, bring her or another mare back to re-breed. Remember that with this mare being a genetic tobiano, you have a 50% chance at a homozygous foal from this cross!
---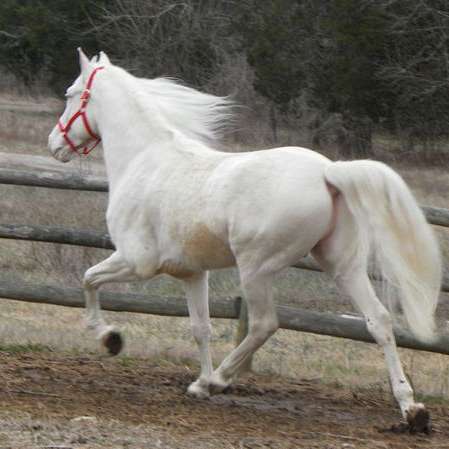 Heaven's Gait Ranch
We are a small family owned & operated farm located in middle Tennessee. We breed, raise, and sell quality Tennessee Walking and Spotted Saddle Horses suitable for show or pleasure. Every horse we offer is trained by us, from the ground up. We are proud to offer horses for every market, from unborn (in-utero) foals, to weanlings, yearlings, started and finished trail horses, and broodmares.