Additional Comments
QTS Tuff Rose Olena

14. H
(QT POCO STREKE x TUFFYS SOLID OLENA)

2001 black APHA mare with the blood lines of Pepsi Poco, Beau Shoshone, Double Q ton Eagle, King Glo, Doc O Lena to name few. She is an own daughter of Q T Poco Streke.

QTPoco Streke has EARNED THE NRHA BRONZE TROPHY, THE APHA WORLD CHAMPIONSHIP RESERVE REINING STAKES, WINNER OF THE WORLD WIDE PAINT HORSE CONGRESS, HIGH POINT OCAP HORSE (ALL THRU NRHA COMPETITION).... (read more) HE WAS RESERVE NRHA LO AT THE ALL AMERICAN QUARTER HORSE CONGRESS (AGAINST 47 AQHA REINERS). HE IS TWICE NRHA OPEN CHAMPION, AND TWICE NRHA LO CHAMPION. HE HAS EARNED HIS ROM IN REINING (18 pts) AT 2 SHOWS. QT WAS HIGH POINT MIDWEST OPEN AND LIMITED OPEN REINING HORSE. HE IS THE SIRE OF WELL OVER 490 PAINT FOALS, AND THE SIRE OF 4 TOP TEN APHA WORLD SHOW 3 YEAR OLD REINING FUTURITY FINALISTS AND A TOP TEN 3 YR OLD CUTTING FINALIST. HIS GET HAVE EARNED OVER 1500 POINTS IN HALTER, WESTERN PLEASURE, STEER STOPPING, CALF ROPING, HEADING, HEELING, REINING, AMATEUR REINING, WORKING COW HORSE, AND WORKING RANCH HORSE. THEY HAVE WON MONEY IN WEANLING HALTER FUTURITIES (INCLUDING THE SOLID GOLD), LONGE LINE FUTURITIES, NRHA OPEN AND AMATEUR REINING, AND NRHA REINING FUTURITIES. QT\\\\\\\'S OFFSPRING TO DATE HAVE WON OVER $22,000, IN ALL DIVISIONS OF THE NRHA. QT IS THE SIRE OF 41 ROM\\\\\\\'S, 9 SUPERIORS , AND 2 WORLD CHAMPIONS. HE HAS BEEN THE LEADING SIRE OF PAINT REINERS FOR THE PAST 5 YRS. QT IS ALSO THE SIRE OF THE NRHA RESERVE WORLD CHAMPION IN 2003. IN 2004, QT WAS THE SIRE OF 4 TOP TEN HORSES, 1 OF WHICH WAS #1 IN 3 DIFFERENT EVENTS.

Also a grand daughter of Red Doc NCHA money earner son of Doc O Lena

CORNELL UNIVERSITY TESTED FOR HERDA RESULTS ARE NEGATIVE!

Doc O'Lena: Hall of Fame, NCHA Futurity, NCHA Derby, NCHA money-earner, Performance Point Earner

Stallion Offspring Record for Doc O'Lena
Hall of Fame Offspring:, NCHA Horse of The Year: World Champion Offspring:
Reserve World Champion Offspring, Superior Performance Offspring, AQHA Champion Offspring, ROM Halter Offspring, ROM Performance Offspring, NRHA Money-earners, NCHA Money-earners, NRCHA Money-earners, All-time Leading Sire:

bred to Cheif for Feb. 2013 foal..guaranteed black and tobiano.

chance for double homozygous.
$3000.00 in foal for 2013

$2500.00 foal back and free breeding in 2013

$2200.00 foal back no breeding in 2013
she has produced very nice foals for us, has no problem breeding, or having a foal. She is a great mother and easy to care for. She has never caused me any problems, is sound, healthy, vice free , vever sick or lame since we have owned her. Gets along great w/other horses.
Shipping Notes
all test or exams welcome at buyers expense. vet sonogram checked in foal. for feb 2013.
---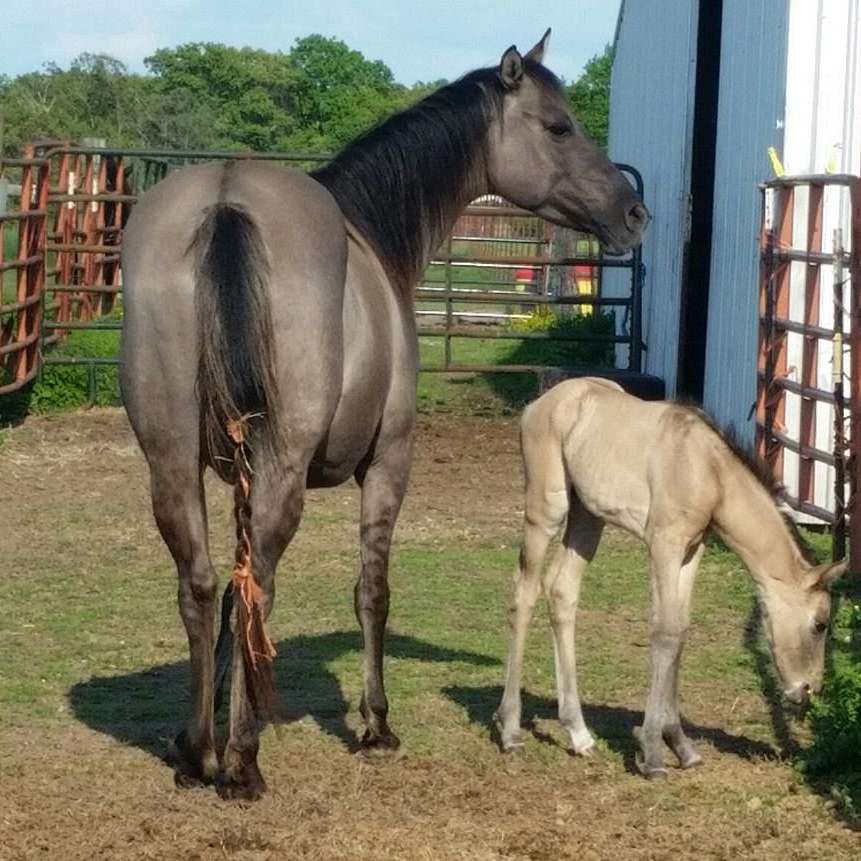 Chambers Springs Stables
Producing performance paints and quarter horses with color, class and style. Palomino, buckskins, blacks, roans, grulla, duns and more. We have some very nice prospects with excellent bloodlines at most anytime, foals, and package deals also.