Additional Comments
If you have a child (OR YOURSELF) who is ready for a step up horse capable of making all their horse related "competition" dreams come true .... SAFELY, then ROCKY could be THE RIGHT HORSE 4 U!!!! ROCKY comes equiped with the "Main Ingredient" neccessary for winning year end HI POINT AWARDS .... C-O-N-S-I-S-T-E-N-C-Y .... he will run the same OR BETTER everytime down the alley!! Does not hit Barrels or Poles, just runs the pattern, makes tight turns and delivers as much speed as your child is ready for and asks him to give!... (read more) No alley issues, no spook, no buck and no bad habits!

BARREL RACING ** POLE BENDING ** SPEED EVENTS ** GOAT TYING
Line Back Dun Gelding who stands 14.3 hands tall. He is 26 years old and yes, I understand that is considered to be old when you are talking about a horse, however you are talking to someone who knows very well just how AWESOME an old competition horse can be too! I rode a mare growing up who at 27 and 28 years of age was the runner up State Champion Pole Bending Horse in Arkansas. When a horse spends their life running barrels or poles and are good at it, the older they get, the more competition is what keeps them alive! They grow to love and depend on it just like we do. As long as they are not hurting or starting to stumble during a run there is no reason to force one into retirement. THE BEST KID HORSES ARE OLDER! I can tell you that the majority of HORSE PEOPLE if asked to tell a story about a horse that made the most impact on their lives will ALWAYS (with a huge smile on their face) tell a favorite story involving the oldest horse they probably ever owned and you can expect them to become teary eye'd before they finish talking! ***THAT TEARY EYE'D STORY WITH THE BIG SMILE IS EXACTLY WHAT HORSES ARE ALL ABOUT***THE HORSE THAT CREATES THIS MOMENT MAY HAVE ONLY BEEN PART OF THEIR LIFE FOR ONE SHORT YEAR BUT THEY WOULD NOT TAKE FOR THAT YEAR OR CHANGED THINGS. THERE IS NO AMOUNT OF TIME THAT COMES EVEN CLOSE TO A YEAR WITH THE RIGHT HORSE!!
Rocky spent the last 6 + years raising a buddy of mines daughter. They went every week to barrel race, pole bend, goat ty or do all the speed events that were available. They won several Hi Point, All Around and Year End awards and never missed a show because of the horse being unsound or injured. The ONLY reason ROCKY is available is because they are no longer able to afford to feed and properly care for him. Going from a 2 income family to a 1 income family has caused them to struggle, selling the horses was a last resort and unfortunately that time has come. They hoped things would change and honestly waited a little late before realizing it wasn't so Rocky is currently needing to put on some weight. He has no trouble eating feed, hay or grass and now that he is receiving all three daily he is looking better every day. A couple of weeks of leggin him up and he will be ready to go! The video attached with this ad was from the end of 2010, YOU COULD NOT HAVE BOUGHT THIS HORSE FOR A PENNY LESS THAN $5000 THEN!!! Asking price for him today is $1100 and we are negotiable on this price to the right home. For information or to schedule a time to come give him a try call Stacy at 903-204-0767 or 903-667-4791. I am available anytime! Any reasonable offer will be considered so please do not hesitate to call! NOT ACCEPTING TRADES FOR HORSES!! TRADES FOR OTHER ITEMS OF VALUE (GUNS, AUTO, TOOLS, HOME ITEMS, ETC.) CONSIDERED!!
********************************************************************
ROCKY IS READY TO HAUL!! NO TRAINING OR PRACTICE REQUIRED!!! HE WILL BE THE SAME EVERYTIME!!
Shipping Notes
SHIPPING AVAILABLE AT BUYERS EXPENSE! CALL OR EMAIL FOR SHIPPING QUOTE!
---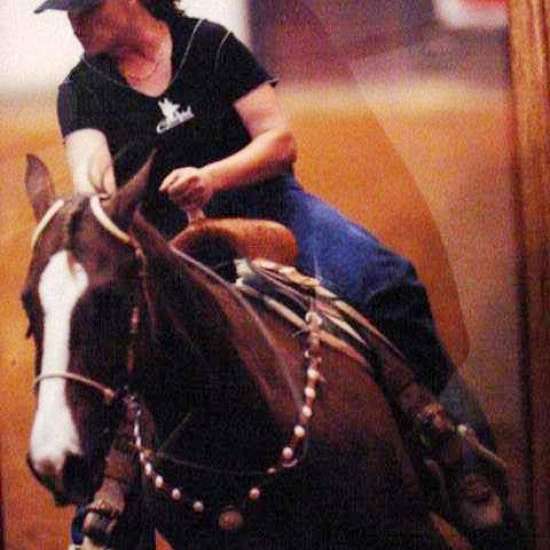 The Right Horse 4 U
I locate, buy, trade and sell a variety of Horses, Ponies, and Miniatures specializing in those that are Kid/Beginner SAFE and capable of making all of you or your little ones Horse Related Dreams Come True! I SELL HORSES "NOT" STORIES!!! I always have several to choose from. Call me anytime at 903-717-1823. Be sure and leave me a message with a number where you can be reached so I can call you back if I don't answer....... (read more) I WANT TO HELP YOU FIND EXACTLY WHAT YOU ARE LOOKING FOR!!! If I don't have the right horse 4 u, chances are I CAN FIND IT!! Located 2 1/2 hours East of Dallas off Interstate 30 in Omaha, Texas 75571 and available anytime!