Additional Comments
Big beautiful Gelding. Wonderful Western Dressage prospect!! Mr T has been a family trail horse and has potential for much more. He has a natural collection at the canter and has the frame for dressage. Mr T has an excellent work ethic as long as he gets to work. He sees it as a game, and he loves to play. He is the horse that would be the class clown if he were a kid; demanding attention and into everything. What a fun personality. He will tackle anything on the trail and would probably do very well with Mounted Posse or NATRC...... (read more) he likes to move down the trail, is confident, a thinker, and loves a challenge. Mr T goes out alone or with other horses, has been camping, trailers, goes through water, across bridges, etc. Mr T requires a confident rider. He is very intelligent and will quickly take advantage of a passive or hesitant handler, but is a blast to ride for someone he respects. Excellent bone and hooves. Correct conformation, sound and healthy. Up to date on vaccinations, coggins, hoof-trimming and just had his teeth floated. Email for more pictures and information. This horse is located near North Branch, MN.
---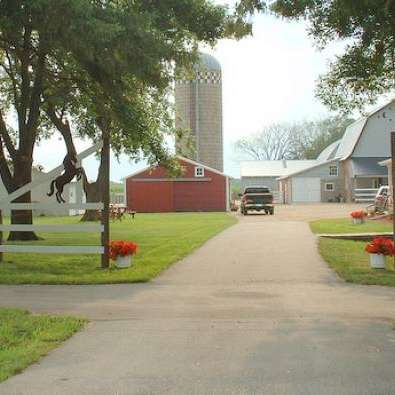 Fort Ridgely Equestrian Center
Our farm is located just north of Fort Ridgely State Park, in the scenic Minnesota River Valley. We offer full boarding, guided trail rides, lessons, and training.