Additional Comments
If you're looking for a future trail horse that is going to have an awesome gait, wonderful temperament, and will turn heads no matter where he goes, then look no further!Banjo is just for you!!

Benny's Banjo Man aka Banjo (TWHBEA # pending) is a lit up black sabino stud colt (could also carry cream gene) foaled on April 9th of this year. He is one of the prettiest stud colts I have ever laid eyes on and pictures do not do him justice!... (read more) He is absolutely stunning and will definitely attract attention wherever he goes. Banjo's confirmation is perfect with a short back, high withers, and a gorgeous head with the cutest little hooked ears. Banjo would make a flashy trail gelding or could even make a super nice show horse. The possibilities are endless with this little guy.

He is bred very well, being out of a direct WGC Pusher's Benny Boy Stud and a Royal Ivory mare. Banjo's papers will include many greats such as The Pusher C.G., Super Stock, Spirit of Midnight and many others.

Banjo is going to be a big boy, he measures (hairline to mid-knee) that he will mature to a sticky 15.2-15.3 HH.(He already stands over 12 HH!) He also has a great attitude. Banjo has a great attitude. He has been handled extensively and is a quick learner. Banjo has no bad habits or vices. He's also naturally gaited, he's already walking and shaking naturally!He also hits a natural saddle gait that would be perfect for pleasure riding! Banjo is currently being weaned and the TWHBEA paperwork has been sent off. He is halter broke and very easy to catch. If you are interested in owning this gorgeous foal, please contact us. We are asking $1500 for this stud colt, which is pretty reasonable, considering his looks, talent, bloodlines, and attitude. If you would like more information on this gorgeous colt, please contact us!

---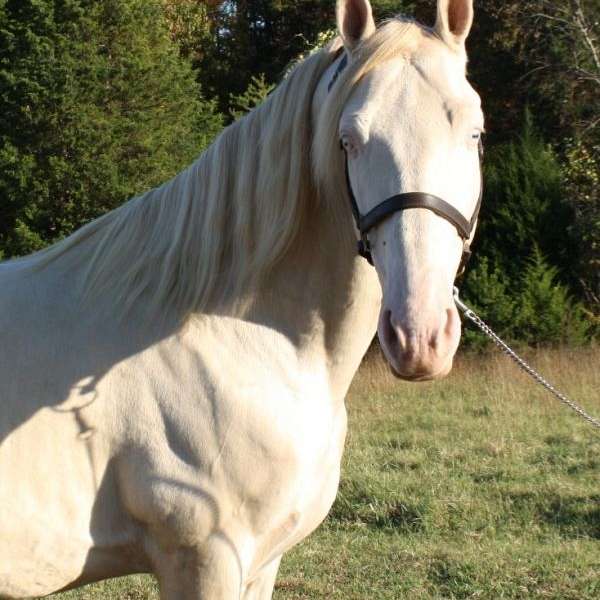 Walkin On The Ridge
Walkin On The Ridge is a small farm located in Blaine, TN. We mostly specialize with Tennessee Walking Horses, but occassionally deal with other breeds. We offer breeding services to a TWHBEA Smoky Cream, Gen's Ivory Bandit. We also may occassionally offer horses for sale. If you are looking for anything in particular, let us know, we'll be happy to help!