Additional Comments
Count is the epitome of a beginner horse.
He is a favourite of our part boarders at the farm and he loves any attention that he gets. Count is a retired OTTB thoroughbred who has found his forever home with us and a job in our small part board program.

He is the perfect beginner horse for someone looking to walk, trot and build confidence and experience on, an adorable love bug who loves his riders.

All part boarders get three rides a week and ground access to their horse.... (read more) Lessons are available at an additional expense (affordable rates).
Part boarders can bring their own coaches on site but horses on part board use barn farrier and vet.

Please contact Emerald Hills Stable to find out if you and Count may be suited and to schedule a time to come and meet him.
Please message with a phone number for a prompt reply about Count and our part boarding options available to you.
Count is not for sale.

Part Board is $250 a month with 3 rides weekly. Lessons are available at an extra cost to those boarding or part boarding at our farm

Shipping Notes
Not for sale. Part board only.
---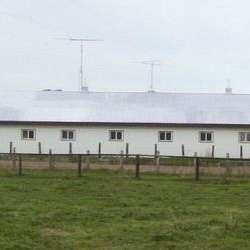 Emerald Hills Stable
Quality Thoroughbreds -- Rescue/Rehabilitation -- Pleasure -- Limited Boarding Available -- Over 200 acres with excellent quality grass pastures. With over 25+ years in the horse industry and holding many different positions throughout her career has enabled Katherine to own and operate her own Thoroughbred facility. With her own proven stallion and broodmares who have some exceptional lineage has allowed Katherine to experience life in the fast lane and some great memories of her own horses accomplishments at Woodbine Racetrack.... (read more) Currently, there are limited broodmares available to qualified individuals on lease contracts. Emerald Hills offers knowledgeable and professional boarding to the public. At Emerald Hills you will have a one on one relationship with the owner of the facility and your equine partner's health, safety and sanity are of the utmost importance. You will never feel the swept aside and nameless face syndrome that some boarders feel at bigger boarding facilities where money is the main concern. Emerald Hills is home to Katherine and her family and there is always someone on site available to answer your questions or assist you. Limited indoor board available, but stalls fill up quickly in the colder months. Outdoor board available year round, with access to hay and shelter. Also, co-op board available to those interested with personal programs available to suit you and your wallet. Part Board available. Check the website for a list of all available horses or call and see if we have the perfect horse for you. For more information please e-mail Katherine today for your personal tour and quote.