Additional Comments
Charming tri color gelding with two beautiful sky blue eyes. Rockie is a beautiful horse. He has a shiny chestnut coat with black and white accents, a mixed mane, black tail and mesmerizing matching true blue eyes. On top of his great looks he has personality, a great gait and lots of skills. Rockie is very loving and really enjoys people. He will come to you in the stall, turn out, where ever. He is very easy to ride and very well trained. Rockie stands still to mount/dismount, walks and gaits on a loose rein, canters, neck reins, listens to leg and verbal cues, goes out alone and is great in a group too.... (read more) He can perform a flat walk, running walk and he will canter also. Rockie is not a spooky acting horse and has no problems walking over tarps, through water, standing while ATV's zoom past him, walking past cars buzzing by him. Rockie is very sure footed and does not miss a step on the trail. He is a point and go type of horse. Rockie is an easy going horse with a great attitude and wonderful disposition. He is intelligent, calm and sensible to ride. Rockie is easy to catch, halter lead, groom, bathe, clip, tack up and bathe. His ground manner are just as wonderful as he is. He has done trails all his life and is ready for his next trail partner to take on new adventures. He is a calm, honest and reliable trail mount. He has been exposed to deer, turkeys, wildlife, traffic, ATV's, dogs, high winds, rocky terrain, forests, creeks...He is a total gentleman and a wonderful horse for beginners, families and anyone looking for a smooth riding, loving horse.

Shipping Notes
We can help arrange shipping.
---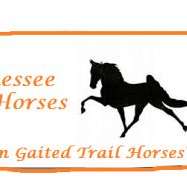 Tennessee Trail Horses
Tennessee Trail Horse is a family owned and operated sales facility for naturally gaited trail horses. We are honest hardworking, Godly people who love to ride horses. Our purpose is to match riders with their perfect horse. We are located in southern middle Tennessee right in the middle of Tennessee Walking horse country. We specialize in offering only the very finest of gaited horses and matching the ideal horse to the needs and wants of each individual rider or buyer.... (read more) All of the horses we offer for sale are very calm and gentle. They all have lots of trail experience as well as loading, clipping, bathing and shoeing experiences. All of our horses are dependable, reliable, surefooted as well as great tempered.They're all sound and healthy as well as up to date on all shots and vaccinations. We don't want to just sell you a horse. We want to sell you a companion and life-long friend.